HalfMooner
Dingaling

Philippines
15831 Posts
Posted - 01/31/2009 : 01:43:17
---
According to the gospels attributed to Jesus' disciples Matthew, Mark, and Luke, the Holy Ghost drove the Savior into the wilderness, so the son of God could be tempted by Satan. This was a fairly typical testing trick by the Father's standards, somewhat reminiscent of his testing of Abraham or Job, although toned down since it was his own son involved. Anyway, through both Biblical knowledge and loyalty to his father, Jesus passed the diabolical test his dad had arranged.

But it turns out that more happened out there in the wilderness than was written of by the three disciples. Here is the continuing dialog that has come to light from a document fragment called the "Satan Temptation Palimpsest," which was recently found written on a First Century AD Egyptian cat-mummy wrapping. It is believed by scholars that the original document included an actual temptation of Satan by Jesus, but that part is no longer in existence. What remains is in the form of a dialog between Jesus and Satan, apparently beginning where the New Testament account ends: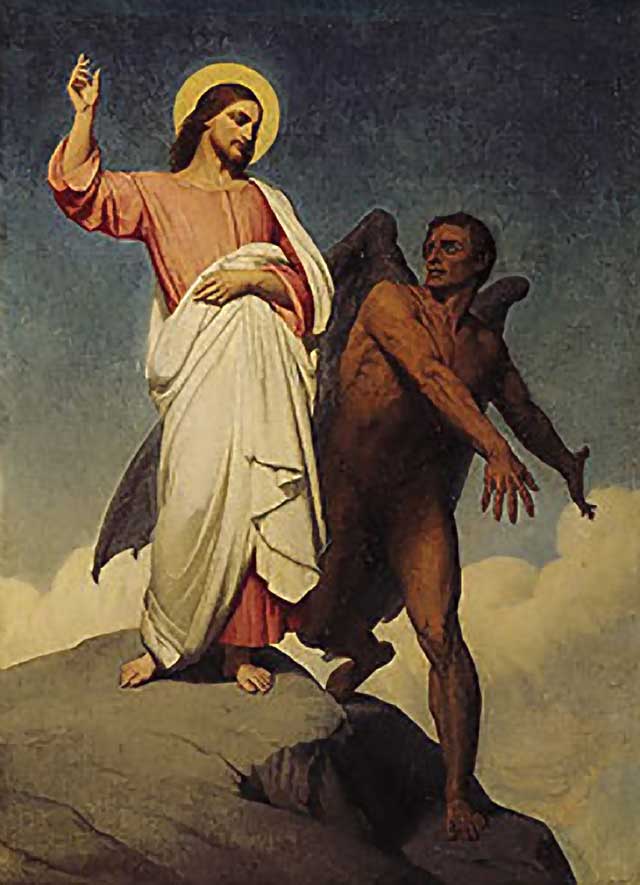 [...] will come back [...] you at a more convenient time.

Jesus: Hold on there a moment, Satan! Fair enough, you tried your best, but now it's my turn.

Satan: Give it your best shot, Jew boy.

Jesus: Dad's personally slaughtered well over two million so far, and that's not even counting those he drowned with the Flood, or all those he's incited his People to kill.

If you're such a powerful force of evil, just how many people have you killed? Dad seems way more evil than you are.

Satan: Quantity has nothing to do with true evil. Evil is about quality. Evil quality. I will not stoop to falling for your transparent rhetorical trick and giving you precise casualty numbers.

Jesus: None, eh? Nice evasion. All right, it is written that you were cast out of Heaven by Dad for the sin of envy. You're supposed to be nursing an undying jealous hatred for Dad and all his works.

But are you really a rebel? So why are you a frequent guest in Heaven? Why do you and Dad make sporting bets with one another, like the ones you two made over Job's loyalty? In fact, why did you just happen to show up in the same wilderness as I did, after Spooky chased me here? That seems mighty convenient.

Aren't you and Dad in fact servant and master, rather than moral polar opposites?

Satan: Me work for him? Are you out of your mind? No!

Your father rules Heaven and Earth, and I rule Hell. That's a more or less equitable split, what might be called "non-overlapping magisteria." And if he ever tries to set foot on Hell, I'll kick his ass.

Jesus: Fire, screaming souls of the damned, and sulfurous smoke. Yeah, I just bet Dad wants to visit that place. Besides, just who sends you those souls to torture, hmmm? Dad. Looks to me that bespeaks a master-slave relationship between you two.

Now, one last question. This time I abjure and command you with all my powers to tell the truth fully.

Why do you act out this travesty, this mere mockery of evil?

Satan: I, I, cannot lie, damn it! I carry out your fathers commands because he would beat me if [...] not. [...] know how insane [...] I am compelled [...] comply with ...

[Scriptural hyperlinks added.]


---
"Biology is just physics that has begun to smell bad." —HalfMooner
---
Here's a link to Moonscape News, and one to its Archive.
---
Edited by - HalfMooner on 01/31/2009 11:30:15