filthy
SFN Die Hard

USA
14408 Posts
Posted - 12/26/2010 : 14:51:25
---
Seems there's another Phelpsian slop-pot of religious white trash out there. These are a bit more active than even the redoubtable Fred. I'd never heard of this one and I'm sure there's plenty more that I don't know about and, indeed, don't want to know about. The world is getting ugly enough without that. Anyhow, here is Amarillo Repent, an incomparable collection of armed dipshits:


Repent Amarillo is a group that uses "spiritual warfare" (along with a variety of more earthly tactics) to try to shut down businesses and organizations. This past September 11, leader David Grisham also attempted to burn a Quran on a grill at a public park, but drew a crowd of Christians, Buddhists, and Muslisms protesting his actions. A skate boarder grabbed the kerosene-doused Quran away from Grisham and was later celebrated in a Youtube video that was viewed over 800,000 times. This past week Repent Amarillo again drew attention when they posted a video of a firing squad "executing" a Santa Claus pinata. Less noticed, but perhaps more disturbing, is another video on their website in which members of the groups can be seen at the property of other Amarillo area houses of worship targeted for warfare prayers.

Their spiritual mapping is still posted (now without the sounds of gunshots) but there are red Xs in the places where businesses or organizations have closed. These include a Masonic lodge and the Route 66 Swing Club. If you click on the red X marking the location of the latter, a message pops up,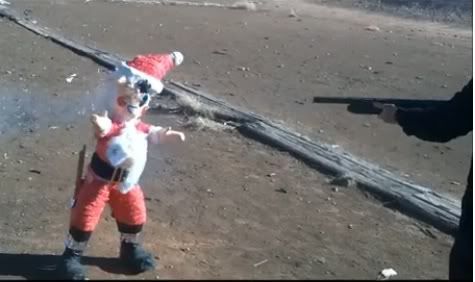 Lost power about 10 this morning; it's back on now and I can finish this.

Anyhow, I wonder how many of these picayune hate groups there are out there. I also wonder why the morons are so big on religion. Even the wretched Klan claims to be a Christian organization. Can't they hate without that? Looked at from an historic perspective, I suppose not.


---
"What luck for rulers that men do not think." -- Adolf Hitler (1889 - 1945)

"If only we could impeach on the basis of criminal stupidity, 90% of the Rethuglicans and half of the Democrats would be thrown out of office." ~~ P.Z. Myres


"The default position of human nature is to punch the other guy in the face and take his stuff." ~~ Dude

Brother Boot Knife of Warm Humanitarianism,

and Crypto-Communist!