Skeptic Summary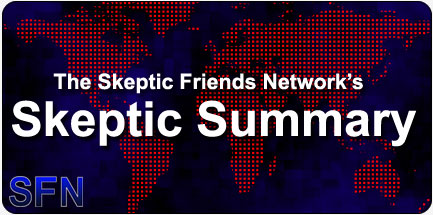 Skeptic Summary #8
By The Staff
Posted on: 10/1/2004

Harry Potter and the Book Burners, psychics wishing, the candidates head-to-head, spilling gray matter, converting the believers, why we have those beliefs, and more!



Week ending October 1, 2004 (Vol 1, #8)


Welcome to the Skeptic Summary, a quick week-in-review guide to the Skeptic Friends Network and the rest of the skeptical world.

Forum Highlights:
Banned Books Week - Even without the Patriot Act, we know the number-one threat to American society from libraries is none other than… Harry Potter.

Can psychics really see the past/future? - If they can, they should have seen this thread coming.

The Debate Thread - For all your Presidential-debate needs.

Just how open should your mind be? - as the saying goes, not so open your brain falls out.

Editor's Choice: Making converts - Perhaps skepticism needs to start going door-to-door.
Kil's Evil Pick:
The Belief Engine - "Our brains and nervous systems constitute a belief-generating machine, a system that evolved to assure not truth, logic, and reason, but survival."
New Article:
Rationally Speaking N. 54, October 2004: Abortion, a Philosophical Approach - If you think you're confident in your opinions about abortion, perhaps Massimo can help you loosen up a bit.
New Members this Week:
punk
trel
Hally8296
jailbird

(Not a member? Become one today!)
---
Happening Now:
Hollywood Hellhouse - Visit this thread for information about the SFN field trip to the Hellhouse.
Elsewhere in the World:
Campaign Puts Polling Methods Under Microscope

Celebrate Your Right to Read - The Panda's Thumb announces Banned Books Week with details of the court case about The Naked Ape (see below)

John Mack, Pulitzer Prize Winner, Dies

Seances Demonstrate Power of Suggestion

SpaceShipOne Completes First Flight in X Prize Pursuit

Study: Half of Internet Viagra is Fake

What's New by Bob Park

Got some skeptic news items? Send them to us, and we'll think about adding them.
Book of the Week:
The Naked Ape, by Desmond Morris





"In view of man's awesome creativity and resourcefulness, we may be inclined to regard him as descended from the angels, yet, in his brilliant study, Desmond Morris reminds us that man is relative to the apes — is in fact, the greatest primate of all."

— Inside Flap Copy
---
More issues of the Skeptic Summary can be found in our archive.

The Skeptic Summary is produced by the staff of the Skeptic Friends Network, copyright 2004, all rights reserved.
---
Read or Add Comments about the Skeptic Summary
Back to Skeptic Summary