Skeptic Summary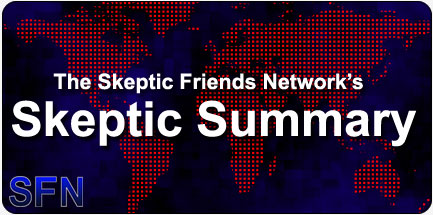 Skeptic Summary #9
By The Staff
Posted on: 10/8/2004

Name that sound, yet another debate, hippo-birdy-two-ewes, sending your money to Malaysia, evolution's boost from the Bible, advice for debates and more!



Week ending October 8, 2004 (Vol 1, #9)


Welcome to the Skeptic Summary, a quick week-in-review guide to the Skeptic Friends Network and the rest of the skeptical world.

Forum Highlights:
Aussies close airport - Due to a what? In a what?

Formal Evolution/Creation debate - Its rules are mediocre, and it's likely to be a waste, but what the heck, it's a debate!

Happy Birthday! - Does the cake represent a fire hazard?

Investment schemes - A surprising number of new members have found this thread.

Editor's Choice: Do ye not know, that we shall Judge Angels? - Finally, we learn that there is Biblical support for evolution, in more ways than one.
Kil's Evil Pick:
My Advice about Debating with Christians, by Edward T. Babinski
New Members this Week:
rova
caveman
bluelog
copagobo
adhimas
llDayo
Indeterminacy
Peptide

(Not a member? Become one today!)
---
Happening Now:
Hollywood Hellhouse - Visit this thread for information about the SFN field trip to the Hellhouse.
Elsewhere in the World:
Astronaut Gordon Cooper Dies

The Crusade Against Evolution

Found: An Ancient Sea Monster

FTC Targets Products Claiming to Affect the Stress Hormone Cortisol

SpaceShipOne Wins $10 Million X Prize

Supreme Court Rejects Commandments Case

What the Bleep Do We Know?

What's New by Bob Park

Got some skeptic news items? Send them to us, and we'll think about adding them.
Book of the Week:
Flatland: A Romance of Many Dimensions, by Edwin A. Abbott





"Flatland… was published in 1880 and imagines a two-dimensional world inhabited by sentient geometric shapes who think their planar world is all there is. But one Flatlander, a Square, discovers the existence of a third dimension and the limits of his world's assumptions about reality and comes to understand the confusing problem of higher dimensions. The book is also quite a funny satire on society and class distinctions of Victorian England."

— Amazon review
---
More issues of the Skeptic Summary can be found in our archive.

The Skeptic Summary is produced by the staff of the Skeptic Friends Network, copyright 2004, all rights reserved.
---
Read or Add Comments about the Skeptic Summary
Back to Skeptic Summary