Skeptic Summary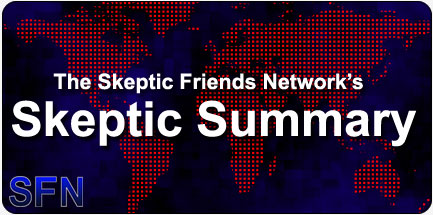 Skeptic Summary #14
By The Staff
Posted on: 11/12/2004

We've got an awkward work situation, an awkward radio pause, our calendar, our pseudoparanormal stories, a trip to La-La Land, and more!



Week ending November 12, 2004 (Vol 1, #14)


Welcome to the Skeptic Summary, a quick week-in-review guide to the Skeptic Friends Network and the rest of the skeptical world.

Forum Highlights:
Medicine kills and chiropractors heal - Well, what would you have done?

River vs. Hovind - round 2 - Priceless.

SFN Calendar Ideas - Help us create an amusing calendar for skeptics.

Editor's Choice: Almost Woo-Woo Stories - That's really freakin' weird… oh, no it's not.
Kil's Evil Pick:
Evil Skeptic and a Visit to Awareness 2000
New Members this Week:
Shlomo Alkabetz
Zygor7
leoofno
rwbond46
joedesmarais

(Not a member? Become one today!)
---
Elsewhere in the World:
Judge to Rule on Georgia Evolution Disclaimers

The Leonid Meteor Shower 2004: Modest Peak Expected Nov. 16-19

Quantum Astronomy: The Double Slit Experiment

School board OKs challenges to evolution

What's New by Bob Park

Got some skeptic news items? Send them to us, and we'll think about adding them.
Book of the Week:
The Fossil Trail: How We Know What We Think We Know about Human Evolution, by Ian Tattersall





"Refreshingly opinionated and vividly narrated, The Fossil Trail is the only book available to general readers that offers a full history of our study of human evolution. A fascinating story with intriguing turns along the way, this well-illustrated volume is essential reading for anyone curious about our human origins."

— Amazon Product Description
---
More issues of the Skeptic Summary can be found in our archive.

The Skeptic Summary is produced by the staff of the Skeptic Friends Network, copyright 2004, all rights reserved.
---
Read or Add Comments about the Skeptic Summary
Back to Skeptic Summary