Skeptic Summary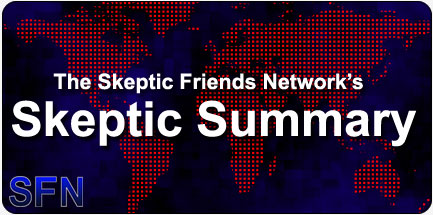 Skeptic Summary #15
By The Staff
Posted on: 11/19/2004

Seeking imbalance, seeking answers, seeking disproof, seeking a sign, seeking categorization and more!



Week ending November 19, 2004 (Vol 1, #15)


Welcome to the Skeptic Summary, a quick week-in-review guide to the Skeptic Friends Network and the rest of the skeptical world.

Forum Highlights:
Balance - The media is a rotting cesspool of inaccuracy, except the SFN, of course.

Is science the only awnser to Paranormal claims - A classic argument restated by someone that thinks that any degree makes you an expert at everything. Actually, that's two classics in one.

The three point challenge, #1 - But if one point can be made, all three collapse.

Editor's Choice: Astrology and the likes - It fits… everybody.
Kil's Evil Pick:
Russell Turpin's "Characterization of Quack Theories"
New Article:
Umps Concur: Yes, Garvey Walks - What the court of appeals finds to be sufficient research, Kil finds absolutely pathetic.
Web Site Beautification:
We've finally got our "roll eyes" smiley: Many thanks to SFN member Ricky! Way to go, guy!
New Members this Week:
Sem Student
just21
Apotheosis
Xingsen
latinijral
Pavelcopj
rushobserver
Storm
eklein
sander
oddball

(Not a member? Become one today!)
Top Ten Search Terms for the Week:
bryan marsden
pips scam
"Bryan Marsden"
skeptic friends
creationism evolution
skeptic
miracle thaw
PIPS pureinvestor
creationism
Pureinvestor scam
---
Elsewhere in the World:
Examining the "tech winter" myth

Virgin Mary Grilled Cheese Back Up on EBay

What's New by Bob Park

Got some skeptic news items? Send them to us, and we'll think about adding them.
Book of the Week:
Penn & Teller's How to Play in Traffic, by Penn Jillette, Teller, Anthony Loew





"While Star Trek fans, role-playing game fans, and even comic book fans eventually find each other and develop something like social groups, teenage magicians are, due to the rarity of their particular geek kink, more likely to remain socially retarded than any other group. That isolation and talent for magic allowed Penn & Teller a great deal of time to devote to revenge, mayhem, and making others look foolish. Now they share their techniques, as well as the wisdom one gains from acquiring happiness only after being ostracized and ridiculed, in Penn & Teller's How to Play in Traffic. A mixture of tricks you can do in hotel rooms, cars, and planes, some ill-advised methods for screwing with the minds of airport security personnel, and a series of memoirs of the unusual people they've met on their B-venue journeys around the world, How to Play in Traffic is not only funny (as one would expect from Penn & Teller) but also oddly insightful."

— Amazon Editorial Review
---
More issues of the Skeptic Summary can be found in our archive.

The Skeptic Summary is produced by the staff of the Skeptic Friends Network, copyright 2004, all rights reserved.
---
Read or Add Comments about the Skeptic Summary
Back to Skeptic Summary