Skeptic Summary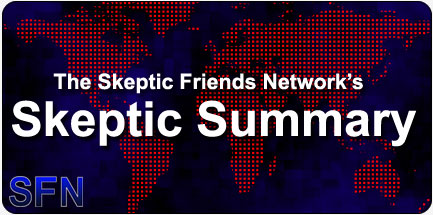 Skeptic Summary #17
By The Staff
Posted on: 12/3/2004

Babylonian Freemasons, reading minds, debate update, new(er) staff, a plea for posts, punny chatting, a dreamy game and more!



Week ending December 3, 2004 (Vol 1, #17)


Welcome to the Skeptic Summary, a quick week-in-review guide to the Skeptic Friends Network and the rest of the skeptical world.

Forum Highlights:
Babylon, the great whore - Owls, pentagrams, and Masons, oh my.

Can people read minds - Well, this post says "yes."

Debunking of Jimi's points - Peptide's debate opponent seems to have run off with a girl.

New Staff - We've got another new moderator!

Editor's Choice: Where IS Everyone? - Calling all lurkers! Come post, come post, wherever you are!
Chat Highlights:
The unofficial topic for Wednesday's chat was fish and bird puns. Most floundered, but some were hard to beak. Also: how desirable is Paris Hilton?

Next week's Wenesday chat: Christmas! How do skeptics react to a holiday celebrating a virgin birth that is, well, questionable? How do Christians react to the secularization of the holiday in the name of capitalism? Stop by next week and let us know!
Kil's Evil Pick:
The Garden of Dreams - "Psi arcade is a contemplative adventure game that tests your intuition. It was developed by the The Institute of Noetic Sciences for entertainment and educational purposes…"

Kil really sucks at this game.
New Members this Week:
bcbarton
Shacal
Peggy
Footballer33
Abby
way
awaheed
Roy

(Not a member? Become one today!)
Top Ten Search Terms for the week:
These are the terms typed into search engines which most-frequently result in a person visiting the SFN:

PIPS scam
skeptic
Bryan Marsden
judicial restraint judicial activism
miracle thaw
skeptic friends
pips pureinvestor
pureinvestor
creationism evolution
dr dino
---
Elsewhere in the World:
Billy James Hargis was TV evangelist

Dark day for poor Po'o-uli

Shark Cartilage for Cancer Called 'Pseudoscience'

What's New by Bob Park

Got some skeptic news items? Send them to us, and we'll think about adding them.
Book of the Week:
50 Things You're Not Supposed to Know, by Barry Glassner





"A uniquely valuable tool to debunk modern mythology and the people and institutions serving it up, 50 Things You're Not Supposed To Know makes an amazing gift item and will prove just as essential in fashionable bathrooms as on the most well-heeled coffee tables."

— Amazon Product Description
---
More issues of the Skeptic Summary can be found in our archive.

The Skeptic Summary is produced by the staff of the Skeptic Friends Network, copyright 2004, all rights reserved.
---
Read or Add Comments about the Skeptic Summary
Back to Skeptic Summary