Skeptic Summary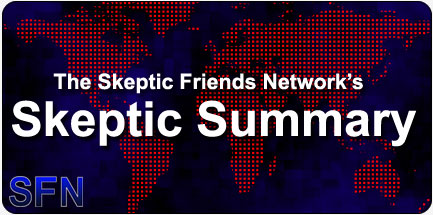 Skeptic Summary #24
By The Staff
Posted on: 1/21/2005

False memories, more predictions, James Randi, the Belief-o-Matic, java, disproving evolution, false memories, false memories and more!



Week ending January 21, 2005 (Vol 2, #3)


Welcome to the Skeptic Summary, a quick week-in-review guide to the Skeptic Friends Network and the rest of the skeptical world.

Forum Highlights:
Poll: False Memory Syndrome - Go vote today!

Doodly Squat! - Our prediction for 2005: Psychics' 2005 predictions will fare just as well as this year.

James Randi: A shit idol? - MoeFox gave Randi a ride in Penn's car, that… means… something… (I think?)

Editor's Choice: My "Belief-O-Matic" results - In which dv82matt kicked our collective butts with a whole slew of zeroes.

From the Archives: Our friend, caffeine! - All hail the Great Lord Cuppajoe.
Chat Highlights:
We had "Tunguska Chat" this week. Next week should be back to normal. Come see!
Kil's Evil Pick:
A Picture which disproves Evolution - Kil lives for this kind of crap…
New Articles This Week:
Questioning the Validity of False Memory Syndrome - False Memory Syndrome has been promoted by the media and accepted as a legitimate legal defense in many courtrooms, but is there really a syndrome here?

A Cherry Picker's Guide To Choosing Evidence For Traumatic Repression Or False Memory Syndrome - In a companion piece to his girlfriend's "Questioning the Validity of False Memory Syndrome," David Glück questions the apparent eagerness of many skeptics to jump on the False Memory Syndrome bandwagon.

Rationally Speaking N. 57, January 2005: Nonsense on Stilts, an Example - Massimo takes a "modern" philosopher to task for publishing confused and torturous thinking as if it contained seriously deep thoughts, and in the process shines a new light on the "New Age."
New Members this Week:
serendipitypublishing
iluvmorocca
victoriahorrocks
Mommabear
PaleRider
Geordie
Mathew
jneutron

(Not a member? Become one today!)
---
Elsewhere in the World:
Bad Science

Planet discoveries called into question

What's New by Bob Park

White House cuts Hubble fix-up funds

Got some skeptic news items? Send them to us, and we'll think about adding them.
Book of the Week:
Collapse: How Societies Choose to Fail or Succeed by Jared Diamond





"In his million-copy bestseller Guns, Germs, and Steel, Jared Diamond examined how and why Western civilizations developed the technologies and immunities that allowed them to dominate much of the world. Now in this brilliant companion volume, Diamond probes the other side of the equation: What caused some of the great civilizations of the past to collapse into ruin, and what can we learn from their fates? …

Brilliant, illuminating, and immensely absorbing, Collapse is destined to take its place as one of the essential books of our time, raising the urgent question: How can our world best avoid committing ecological suicide?"
— Product Description
---
More issues of the Skeptic Summary can be found in our archive.

The Skeptic Summary is produced by the staff of the Skeptic Friends Network, copyright 2005, all rights reserved.
---
Read or Add Comments about the Skeptic Summary
Back to Skeptic Summary