Skeptic Summary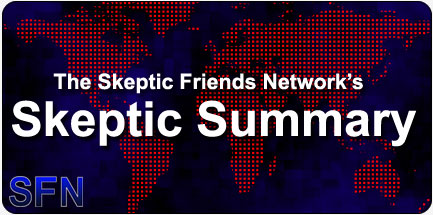 Skeptic Summary #25
By The Staff
Posted on: 1/30/2005

Calling all skeptics (yawn), Bush agonies, death penalties, Johnny Carson, dinner, false memory syndrome, the New Age paradigm shift and more!



Week ending January 28, 2005 (Vol 2, #4)


Welcome to the Skeptic Summary, a quick week-in-review guide to the Skeptic Friends Network and the rest of the skeptical world.

Forum Highlights:
ALL SKEPTICS PLEASE EXPLAIN - Even a psychic could have guessed how this thread would turn out!

Arrrgh!!! - As usual, Dubya fires everyone up.

The Death Penalty, Schwarzenegger and Court TV mov - Should capital punishment or convicts be permanently retired?

Editor's Choice: Johnny Carson - Skeptic and Humanist too! - Rest in Peace.
Chat Highlights:
Wednesday: The Official Unofficial theme should have been "what's for dinner?" as various SFNers discussed their favorite dishes for all occasions. Also: False memories; Dreams; Storm is frustrated; Creation88 owns the Patriots?; Way out there. Come by next Wednesday and see what's new!

Sunday: Music and Dr. Mabuse's crashed harddrive; Siberia's operation. There was also talk about False Memory Syndrome, and the complexity of memories in general; There was a consensus that "Ghosts are in the mind of the beholder," but there was no agreement as to what caused a person to perceive the ghost.
Kil's Evil Pick:
Life after the New Age Paradigm Shift of 2014, by Anders W. Bonde
New Members this Week:
scrunchie
srips21
Blindwillie
Moe Faux
LowVoltage
meteoria87
Was_a_skeptic
tflon
Crystalsicles

(Not a member? Become one today!)
---
Mark Your Calendars:
There will be a "Conscious Life Expo" at the Los Angeles Airport Hilton Feb 11- 13. Any SFN members who would like to experience a "New Age Expo" with an Evil Skeptic please contact Kil with a PM or an email, or a reply in this thread.

Who knows? Maybe this will lead to an "Evil Skeptic III" report…
Elsewhere in the World:
Bad Science

Change in one policy at nation's largest employer expands to include workers' same-sex partners

Prominent Los Alamos Scientist Proves 1988 Carbon-14 Dating of the Shroud Used Invalid Rewoven Sample

Scientists Find Climate Change is Major Factor in Drought's Growing Reach

What's New by Bob Park

Got some skeptic news items? Send them to us, and we'll think about adding them.
Book of the Week:
Catastrophe: Risk and Response by Richard A. Posner





"Posner is, in my opinion, one of the smartest people on Earth. And while you may not agree with his analysis of everything, the depth of his analysis is to be admired, and his suggestions should be taken seriously."
— Cuneiformist
---
More issues of the Skeptic Summary can be found in our archive.

The Skeptic Summary is produced by the staff of the Skeptic Friends Network, copyright 2005, all rights reserved.
---
Read or Add Comments about the Skeptic Summary
Back to Skeptic Summary