Skeptic Summary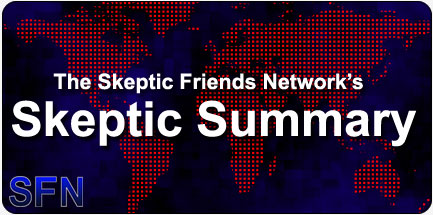 Skeptic Summary #32
By The Staff
Posted on: 3/19/2005

Loftus in a new light, ad hominem mastery, mercury, judicial activism, the FMSF is an educator and more!



Week ending March 18, 2005 (Vol 2, #11)


Welcome to the Skeptic Summary, a quick week-in-review guide to the Skeptic Friends Network and the rest of the skeptical world.

Forum Highlights:
Elizabeth Loftus & False Memory - This is extremely interesting.

Is Uri Gellar a fraud? - filthy shows latinijral the true artistry of ad hominem.

Mercury is just an element! - But what about the planet of the same name?

Editor's Choice: Judges - Dude can read my mind!
Kil's Evil Pick:
Ken Pope's Open Letter to the APA - "Internet posts have announced APA's approval of the False Memory Syndrome Foundation (FMSF) as an official sponsor of APA continuing education units."
Chat Highlights:
Sunday: Due to technical problems the chat moderator was unable to attend. The chat was unexpectedly cancelled, unfortunately without the moderator being able to leave notice.

Wednesday: As seems to be the norm now, the Wednesday chat began with an update of how everyone is doing with Nanaca Crash!! Also: quantum physics; Google; Skeptic books; Life in Southern California; Stirring up the SFN pot; Way shops for golf clubs. Next week, we find out if it helped his game. Stop by!

Come chat with us.
New Members this Week:
thetrue
wendela_30
Capn_Danger
balastars
arcturan
ladycrystal6

(Not a member? Become one today!)
---
Elsewhere in the World:
Bad Science

Calif. judge rules gay marriage ban unconstitutional

Images of Mars Fuel Speculation on Planetary Life

The Skeptic's Dictionary Newsletter 53

What's New by Bob Park

Got some skeptic news items? Send them to us, and we'll think about adding them.
Book of the Week:
Boiling Point: How Politicians, Big Oil and Coal, Journalists and Activists Are Fueling the Climate Crisis — And What We Can Do to Avert Disaster, by Ross Gelbspan





"Ross Gelbspan's Boiling Point [is] the long-awaited sequel to The Heat Is On, his classic account of how oil and coal companies have been poisoning the debate over global warming with their expensive advocacy of junk science. Gelbspan, more than anyone else, helped to expose the disinformation, only to see those energy companies gain huge new power in the Bush administration. Now he worries that even people who are concerned about global warming, in their dismay at the lack of progress, may be setting the bar much too low, advocating only the smallest and most politically practical changes, all the while ignoring the physics and chemistry that indicates that a large-scale shift is likely to take place soon. His concluding chapter, 'Rx for a Planetary Fever,' sets out perhaps the most thought out and plausible proposal for rapidly accelerating the transition to a new world.'

— Bill McKibben, New York Review of Books
---
More issues of the Skeptic Summary can be found in our archive.

The Skeptic Summary is produced by the staff of the Skeptic Friends Network, copyright 2005, all rights reserved.
---
Read or Add Comments about the Skeptic Summary
Back to Skeptic Summary