Skeptic Summary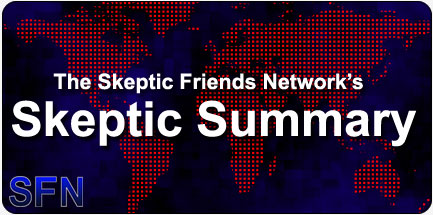 Skeptic Summary #34
By The Staff
Posted on: 4/1/2005

Good communications, SEO gone crazy, eeeeevil, dirty secrets, Darwin's badgers and more!



Week ending April 1, 2005 (Vol 2, #13)


Welcome to the Skeptic Summary, a quick week-in-review guide to the Skeptic Friends Network and the rest of the skeptical world.

Forum Highlights:
Getting Your Ideas Across - A very good lesson that a well-planned and easily navigated Web site is your key to communications.

SFN for sale on eBay - Our webmaster takes SEO to a new level.

Ultimate Evil - Even moral relativists can tell right from wrong.

Editor's Choice: I Hate God - The secret that non-Christians have been hiding all this time is finally out!
Kil's Evil Pick:
Darwin's Badgers - In large groups of European badgers, some females don't breed but instead help other badgers to rear their offspring. How can such selfless behavior be explained by "survival-of-the-fittest" evolutionary theory? Dr. Gabby Hayes of Pico Technical College offers up a startling new hypothesis after a fascinating meta-analysis of badger studies hand-picked by Hayes himself.
Chat Highlights:
Sunday: Finally, evidence of Satanic Ritual Abuse (the Skeptillaneous aricle by Dawn Huxley must now be rewritten); Dr. Mabuse got a phone call right after seeing The Ring 2; staff discussed new ways of increasing traffic; verlch reveals his admiration for Dawkins.

Wednesday: Administrators argue, @tomic threatens to put SFN up for sale. Dr. Mabuse gets caught chatting while at work and is immediately terminated. Fun things you can do with flatulence. Feeding-tube puns. Cuneiformist makes everyone jealous with his powerful new 14.4kbps internet connection. And the failure of the old skepticism is discussed.

Chats are now cancelled.
New Members this Week:
Supremebeing
his-son
batterlisten
aintnofun
fallNangel
oven_buns
Mr_Satan
atethecrumbs
happy_skeptic
Betterrun

(Not a member? Become one today for only $25/month!)
---
Elsewhere in the World:
Bad Science

Conclusive evidence for Norse patheon, experts say

Scientists closer to understanding the causes of mental insanity

US Government Redoubles Its Efforts to Nationalize Ba'al Worship and Freemasonry

What's New

Got some skeptic news items? Send them to us, and we'll report them as spam.
Book of the Week:
Conversation with Sagan, by Neill N. Doon





"A magnificent book in which Doon, a certified medium, contacts the spirit of the late Carl Sagan. Doon, who has helped write numerous post-mortem autobiographies, doesn't have a conversation so much as he allows Sagan to have a tremendous monologue. Out of the 656 pages in this volume, only about ten are Doon's own words, and seven of those comprise the introduction (and there are no chapter breaks). So in fact, it's Sagan's book, and he makes the most of it. With scathing replies to his current critics — and even more harsh words for idoloizing fans — Sagan tells us what he really meant with the books he wrote during his mortal life, his show Cosmos, and even gives us a hint of what's waiting for us all."

— Serenity Review of Books
---
More issues of the Skeptic Summary can be found in our archive.

The Skeptic Summary is produced by the cabal of the Skeptic Friends Network, copyright 2005, all rights reserved, punk.
---
Read or Add Comments about the Skeptic Summary
Back to Skeptic Summary