Skeptic Summary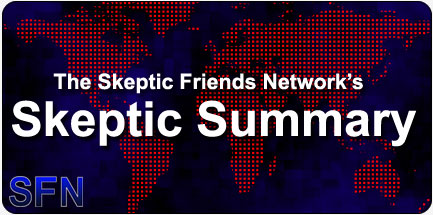 Skeptic Summary #47
By The Staff
Posted on: 7/1/2005

Protests, baloney on BS, introductions, the media, workings, bad Hovind fruit and more!



Week ending July 1, 2005 (Vol 2, #26)


Welcome to the Skeptic Summary, a quick week-in-review guide to the Skeptic Friends Network and the rest of the skeptical world.

Forum Highlights:
Anti-war or Anti-American - When does protest become treason?

Horowitz on Bullshit! - Just what the heck was the point of all that, anyway?

Introduce Yourself - Or else…

Editor's Choice: The Media Problem - Shut up. Oh, won't you please shut up?
Kil's Evil Pick:
How Stuff Works - Learn how everything works.
New Fan Mail this Week:
You're an Idiot - The Bible's Bad Fruits and Kent Hovind, both in one email. Can our irony meters take the strain?
Chat Highlights:
Sunday: Anticipating the coming vacation; rap's "Baby's Got Back" social statement; Spinal Tap and lyrics; Mac and Apple. Also: cats, cute but strongwilled; long gone Skeptic Friends; what you'd do if you knew your days were numbered; movies.

Wednesday: An impromptu chat started early, where we talked computers and the best antivirus software. Then, chat began in earnest with a discussion of police and law enforcement. Also: Dave's computer spiraltreewhirlthing; who's better?; the Ricky doppleganger; "Intelligent Evolution?"; joining mesna, er menza, meh, er, that smart-person club.

Come chat with us.
New Members this Week:
byzantiumroms
skism
larry_boy
glenium

(Not a member? Become one today!)
---
Elsewhere in the World:
Bad Science

God's Gift to Kansas

Mexican stamp called offensive to blacks

NASA's Deep Impact Spacecraft on Target for Comet Crash

Possible lake on Saturn's moon Titan

Skepticality show #10, with James Randi

Study: Chickadee song actually sounds the alarm

Suspected file-swappers arrested in raid

What's New by Bob Park

Got some skeptic news items? Send them to us, and we'll think about adding them.
Book of the Week:
Why I Am Not a Christian, and Other Essays on Religion and Related Subjects, by Bertrand Russell





"Dedicated as few men have been to the life of reason, Bertrand Russell has always been concerned with the basic questions to which religion also addresses itself — questions about man's place in the universe and the nature of the good life, questions that involve life after death, morality, freedom, education, and sexual ethics. He brings to his treatment of these questions the same courage, scrupulous logic, and lofty wisdom for which his other work as philosopher, writer, and teacher has been famous. These qualities make the essays included in this book perhaps the most graceful and moving presentation of the freethinker's position since the days of Hume and Voltaire."

— Book Description
---
More issues of the Skeptic Summary can be found in our archive.

The Skeptic Summary is produced by the staff of the Skeptic Friends Network, copyright 2005, all rights reserved.
---
Read or Add Comments about the Skeptic Summary
Back to Skeptic Summary