Skeptic Summary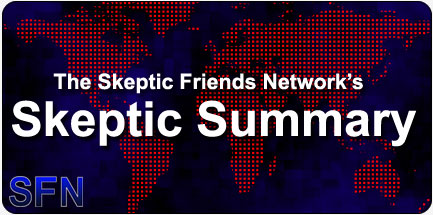 Skeptic Summary #48
By The Staff
Posted on: 7/9/2005

Atheism sucks, myth at the zoo, nukes are bad, a special gift, advertisements, exemplaries, hoaxes and more!



Week ending July 8, 2005 (Vol 2, #27)


Welcome to the Skeptic Summary, a quick week-in-review guide to the Skeptic Friends Network and the rest of the skeptical world.

Forum Highlights:
Hey, guess what? Atheism sucks! - But only if you ask it nicely.

It's about the Menagerie, not the Mythology! - Won't anyone think of the animals?!?

Nuclear power… let's find something else!!! - Well, I've got a little hamster…

Editor's Choice: Our 4th of July Gift… - Many thanks to the Skepticality crew!

From the Archives: Ads that torque me - Wanna buy some bleach?
Best of June, 2005:
Topic of the Month: Meta-skepticism - We dig skepticism, too!

Post of the Month: AMS Carbon Dating - Scientists would love to have machines capable of doing what creationists claim they can do.
Kil's Evil Pick:
The Museum of Hoaxes
Chat Highlights:
Sunday: First out: archery, Zen and otherwise; USENET; big thanks to Skepticality for installing a "Donate to SFN" link! Tricking teachers. Also: kinky stuff and ghosts in cemeteries; ghost story by Storm; sound systems in cars; investigating ghostly events; mercury and tooth fillings; national holidays; role-playing games and fan-fiction.

Wednesday: Chat was busy. Topics included: NoVa real estate; Mab's QAE; digital cable; where's @tomic?; addressing ID; directions for SFN; T-shirts. Missed out? Come back next Wednesday!

Come chat with us.
New Members this Week:
house727
Dry_vby
LLD
marfknox
Hitchiker1

(Not a member? Become one today!)
---
Elsewhere in the World:
Bad Science

Comet collision a historic one

Identical Twins Exhibit Differences in Gene Expression

London Terror

Skepticality show #11

What's New by Bob Park

Got some skeptic news items? Send them to us, and we'll think about adding them.
Book of the Week:
Science Friction: Where the Known Meets the Unknown, by Michael Shermer





"In each of the fourteen essays in Science Friction, psychologist and science historian Michael Shermer explores the very personal barriers and biases that plague and propel science, especially when scientists push against the unknown. What do we know and what do we not know? How does science respond to controversy, attack, and uncertainty? When does theory become accepted fact? As always, Shermer delivers a thought-provoking, fascinating, and entertaining view of life in the scientific age."

— Book Description
---
More issues of the Skeptic Summary can be found in our archive.

The Skeptic Summary is produced by the staff of the Skeptic Friends Network, copyright 2005, all rights reserved.
---
Read or Add Comments about the Skeptic Summary
Back to Skeptic Summary