Skeptic Summary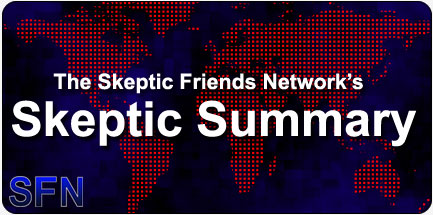 Skeptic Summary #54
By The Staff
Posted on: 8/19/2005

Religion, conspiracies, wind power, the NCSE and more!



Week ending August 19, 2005 (Vol 2, #33)


Welcome to the Skeptic Summary, a quick week-in-review guide to the Skeptic Friends Network and the rest of the skeptical world.

Forum Highlights:
Thank God for religion - Or maybe God should thank humans for religion!

What's this? - Or more correctly, what is the point of this?

Editor's Choice: Wind - Many of my own calculations are full of hot air.
Kil's Evil Pick:
The National Center for Science Education - The NCSE "defends the teaching of evolution in public schools. We are a nationally-recognized clearinghouse for information and advice to keep evolution in the science classroom and 'scientific creationism' out. NCSE is the only national organization to specialize in this issue."
Chat Highlights:
Sunday: First out: Kidney stones, if you know what they look like, you know where the pain comes from… ghosts and the scientific method; stories from Dr. Mabuse's London visit; warm weather. Also: Buddhism, thunder and lightning; eerie pubs (gothic theme-pubs for fun, not The Intrepid Fox): The Marlborough Head.

Wednesday: Chat opened with a discussion of the renewed presence of HYBRID and his running conspiracy theories. Also: weed(s); geckolocation; intelligent grappling; religion EKGs; opiates and their masses; Ace of Base; SFN in DC; who writes the songs? To find out more, stop by next week!

Come chat with us.
New Members this Week:
auden
Abdul Alhazred
Grengor
omega76
zaphod beeblebrox
robinrenee

(Not a member? Become one today!)
---
Elsewhere in the World:
Bad Science

Inca knotted strings tell a tale of ancient life

Nanotech researchers report big breakthrough

Skepticality #16 - The Bad Astronomer, Phil Plait, Returns!

Study: Chimps show hand preference

What's New by Bob Park

Got some skeptic news items? Send them to us, and we'll think about adding them.
Book of the Week:
Bad Astronomy: Misconceptions and Misuses Revealed, from Astrology to the Moon Landing "Hoax", by Philip C. Plait





"Plait, a science writer who works in the physics and astronomy department at Sonoma State University, is appalled that millions of Americans don't believe the moon landing really took place and do believe that Galileo went blind from looking at the sun, or that they can make an egg stand on end only on the vernal equinox. To set the record straight, he debunks these and many other astronomy-related urban legends in this knowledgeable, lighthearted volume."

— Publishers Weekly
---
More issues of the Skeptic Summary can be found in our archive.

The Skeptic Summary is produced by the staff of the Skeptic Friends Network, copyright 2005, all rights reserved.
---
Read or Add Comments about the Skeptic Summary
Back to Skeptic Summary