Skeptic Summary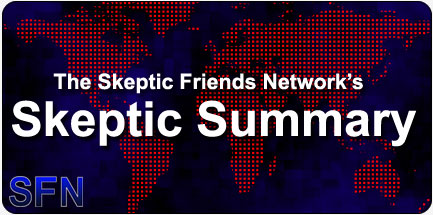 Skeptic Summary #61
By The Staff
Posted on: 10/8/2005

Get a wedgie, get more power, get another planet, get a terrorist, get better, get healthy, get rid of bogus science and more!



Week ending October 8, 2005 (Vol 2, #40)


Welcome to the Skeptic Summary, a quick week-in-review guide to the Skeptic Friends Network and the rest of the skeptical world.

Forum Highlights:
Bend Dover, Insert Wedge - Important news in the war on evolution.

BlackLight Power Inc.: too good to be true? - If you have to ask…

The case against "Ubie" - Xena, warrior planetoid, please.

Editor's Choice: Ten (count 'em: 10) terrorist plots foiled! - Yeah, if "plot" means telling terrorists "hey, that won't work!"
Best of September, 2005:
Topic of the Month: Derek at Skepticality… - A matter of concern for many skeptics, even though not actually a skeptical matter.

Post of the Month: A Personal Account - Trish offers experience in body weight maintenance to say that caloric intake/output isn't all that should be considered.
Kil's Evil Pick:
The Seven Warning Signs of Bogus Science, by Robert L. Park. This pick is dedicated to markie…
Chat Highlights:
Sunday: First out: conference trips with not enough sleep; computer stuff like operating systems; Kraftwerk is still master of techno-pop; geocaching, a new hobby that keeps you exercised. Also: the Moon's increasing orbit; longevity of Biblical persons a translation error; Christianity bashing: right or wrong, who are bigots and who speaks from experience?

Wednesday: Mab holds folders for ransom; Ricky discusses the zero point proof solution, calculus (math chat banned!); Kil turns 39 for the 18th time; Cune shows up, but in the wrong font. Show up next week, or else!

Come chat with us.
New Members this Week:
ScoutKirkOlson
Zephon

(Not a member? Become one today!)
---
Elsewhere in the World:
Bad Science

Debate swirls over city Wi-Fi networks

Leavitt: Bird flu 'demands our attention'

What's New by Bob Park

Got some skeptic news items? Send them to us, and we'll think about adding them.
Book of the Week:
Perfectly Reasonable Deviations From The Beaten Track: The Letters Of Richard P. Feynman, by Timothy Ferris (Foreword), Richard P. Feynman and Michelle Feynman





"Like Einstein and Hawking, [Feynman] had come through times of great suffering… Behind his enormous zest and enjoyment of life was an awareness of tragedy, a knowledge that our time on earth is short and precarious. The public made him into an icon because he was not only a great scientist and a great clown but also a great human being and a guide in time of trouble. Other Feynman books have portrayed him as a scientific wizard and as a storyteller. This collection of letters shows us for the first time the son caring for his father and mother, the father caring for his wife and children, the teacher caring for his students, the writer replying to people throughout the world who wrote to him about their problems and received his full and undivided attention."

— Freeman J. Dyson New York Review of Books
---
More issues of the Skeptic Summary can be found in our archive.

The Skeptic Summary is produced by the staff of the Skeptic Friends Network, copyright 2005, all rights reserved.
---
Read or Add Comments about the Skeptic Summary
Back to Skeptic Summary