Skeptic Summary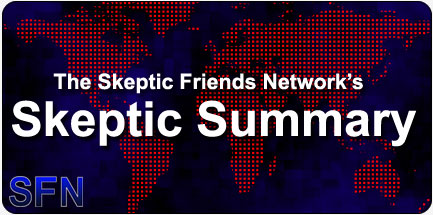 Skeptic Summary #62
By The Staff
Posted on: 10/15/2005

10,000 floors and rising, hobbits, a real surprise, baloney and more!



Week ending October 15, 2005 (Vol 2, #41)


Welcome to the Skeptic Summary, a quick week-in-review guide to the Skeptic Friends Network and the rest of the skeptical world.

Forum Highlights:
Going up? The space elevator project - It's slightly more feasible than the space escalator project…

Homo Floresiensis: Antiwedge, now 9 specimens - Maybe they evolved into the minor leagues.

Editor's Choice: My argument against evolution - This is very interesting, but not because of any evolutionary content.
Kil's Evil Pick:
The Fine Art of Baloney Detection by Carl Sagan. This blast from the past is a must read for skeptics!
Chat Highlights:
Sunday: First out: a new visitor, Paranoid from a Direct Connect hub; Xena (and Gabrielle) the planetoid; weird things that people invent; consequences when irresponsible pet-owners ignore local ecology as they relase unwanted pets. Also: examples of unreliable memory; movies - The Matrix and The Thirteenth Floor, with more than one level of reality; the language all computer programmers know best: bad language (prophanities).

Wednesday: Your host was late (does that even need to be mentioned anymore?) to a small but interesting Wednesday night chat contrasting the different values of feelings versus reason (deep, I know). Also: living longer; dealing with difficult debates; letters; voting Republican; voodoo economics?; more urban dead; Percocet and toe problems! Curious? Stop by next week!

Come chat with us.
New Members this Week:
Garum1
swpalmer
Ayla
ejsaunders
ASR
skiender

(Not a member? Become one today!)
---
Elsewhere in the World:
Bad Science

Flagellate might be study in evolution

Science & Technology Web Awards 2005

Got some skeptic news items? Send them to us, and we'll think about adding them.
Book of the Week:
Tales of the Rational: Skeptical Essays About Nature and Science, by Massimo Pigliucci





"You will come away refreshed, with your mind challenged by what is now not as simple as it seemed…"

— Ed Buckner, Atlanta Freethought News, June 2000
---
More issues of the Skeptic Summary can be found in our archive.

The Skeptic Summary is produced by the staff of the Skeptic Friends Network, copyright 2005, all rights reserved.
---
Read or Add Comments about the Skeptic Summary
Back to Skeptic Summary