Skeptic Summary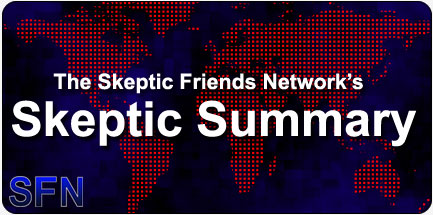 Skeptic Summary #66
By The Staff
Posted on: 11/12/2005

"The" argument, the supernatural, the myth, the hat, the newage, spirituality and more!



Week ending November 12, 2005 (Vol 2, #45)


Welcome to the Skeptic Summary, a quick week-in-review guide to the Skeptic Friends Network and the rest of the skeptical world.

Forum Highlights:
The Argument - Or rather, the dodge.

Excluding the Supernatural? - Science doesn't exclude the supernatural, it just doesn't care.

McCarthy was right? Communist threat lives? - Well, the "McCarthy myth" may live, but we may never find out what that myth is.

Editor's Choice: Tinfoil hats debunked! - I am terribly upset this information did not surface earlier.
New SFN Article this Week:
Wellness in the New Age: an Expensive Obsession - Apparently, the New Age has become as commercialized as Christmas!
Kil's Evil Pick:
New Age Spirituality - Now that I've mostly dismissed the spirituality aspect of the New Age movement in my latest Kil Report, here is what it is.
Chat Highlights:
Sunday: Old processors (Zilog Z80) and programming them; operating Systems' security file access scheme; in memory of WinAce… Also: Ann Coulter; the Massive Multiuser Role Playing Game also known as MMUD — Urban Dead, with several SFN members playing; more memories of WinAce; right-wingnuts and Ann Coulter.

Wednesday: Chat included a visit by ar, and the question of abiogenesis was discussed. But that wasn't all! Also: Urban Dead (of course); visiting SFN; bird flu; ccdi9; Monopoly probabilities; moons of Jupiter… er, Saturn; the biggest lake; large lesbian basketball players who swim. Confused? So were we. Stop by next week to figure it all out!

Come chat with us.
New Members this Week:
pcgeller
mooser745
Patrick Hennessey
lil slap
Frankie
thoughtful

With a special mention of bigbrain's second sock puppet, just by simple hyphenation.

(Not a member? Become one today!)
---
Elsewhere in the World:
Bad Science

China reports bird flu outbreaks

Israelite alphabet may have been found

What's New by Bob Park

Got some skeptic news items? Send them to us, and we'll think about adding them.
Book of the Week:
13: The Story of the World's Most Popular Superstition, by Nathaniel Lachenmeyer





"Lachenmeyer … uncovers the odd world of 'triskaidekaphobia' — the fear of the number 13 — in this sometimes-amusing but rambling assemblage of myth and history. Lachenmeyer begins with the phobia's 'golden age from 1860 to 1940 when Thirteen Clubs around the world assembled at tables of 13 to defy superstition that one of them would die.' …Lachenmeyer's impressive historical research and quirky survey of present-day triskaidekaphobic practices (e.g., missing 13th floors in skyscrapers and strange stock market behavior on certain dates and at certain price levels) provides a glimpse into irrationality and superstition through history."

— Publishers Weekly
---
More issues of the Skeptic Summary can be found in our archive.

The Skeptic Summary is produced by the staff of the Skeptic Friends Network, copyright 2005, all rights reserved.
---
Read or Add Comments about the Skeptic Summary
Back to Skeptic Summary