Skeptic Summary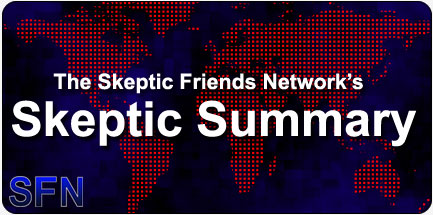 Skeptic Summary #72
By The Staff
Posted on: 12/24/2005

Happy whatever, asteroids and guns, creationism writ annoying, a non-activist judge, predict the future, stupid stuff and more!



Week ending December 24, 2005 (Vol 2, #51)


Welcome to the Skeptic Summary, a quick week-in-review guide to the Skeptic Friends Network and the rest of the skeptical world.

To those who are celebrating something on or around December 25th, the staff of the Skeptic Friends Network wishes you all the best, especially that your celebration(s) are both safe and fun.

Forum Highlights:
Asteroid on collision course? Looks likely. - A thread which seems to make a conservative smile. Who'd athunk it?

creation/evolution - Won't you listen, Bill? / I've got the strawman blues. (To the tune of "Wedding Bell Blues" by the 5th Dimension.)

The Judicial system works! - But the minds of ultraconservatives don't.

Editor's Choice: Predictions for 2006 - You've only got about a week left to add yours, so do so today!
Kil's Evil Pick:
Stupid.com - Michelle and I collect crap like the stuff you will find at Stupid.com. Sorry I came across it so late in the season but I am sure they will be having an after Christmas holiday sale…


Chat Highlights:
Sunday: Range of carbon-dating; sci-fi series; Urban Dead; counselling the grief counsellor; anecdotes of a struggling cat; SETI and Folding@HOME.

Wednesday: Chat started with Kil's better half playing the part of game show host. Yowza yowza! Also: SFN preditions; creation/evolution; design and language (Kilbonics, anyone?); warm winter weather; happy Solstice!; things to eat (or not) while drunk (or not); and Narnia. Next week: resolutions!

Come chat with us.
New Members this Week:
snake river
Joe Cooper
ChrisC
Bill scott (yes, that Bill scott)

(Not a member? Become one today!)
---
Elsewhere in the World:
Bad Science

Judge Rules Against 'Intelligent Design'

Skepticality - The UnChristmas Episode featuring Tom Flynn

What's New by Bob Park

Got some skeptic news items? Send them to us, and we'll think about adding them.
Book of the Week:
The Born Again Skeptic's Guide To The Bible, by Ruth Hurmence Green





"Many theists are taught only selected portions of the Bible. They conveniently gloss over the more horrific aspects. Ruth takes all passages into account, those where God is shown to be grand and those where he's spiteful, cruel and morally repugnant."

— Anonymous Amazon.com Review
---
More issues of the Skeptic Summary can be found in our archive.

The Skeptic Summary is produced by the staff of the Skeptic Friends Network, copyright 2005, all rights reserved.
---
Read or Add Comments about the Skeptic Summary
Back to Skeptic Summary