Skeptic Summary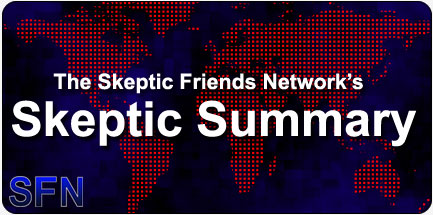 Skeptic Summary #75
By The Staff
Posted on: 1/16/2006

Fresh stale air, being skeptical of skeptics, disproving God, cyclopia, Bill Scott's antievolution, a new carol, hits and misses and more!



Week ending January 15, 2006 (Vol 3, #2)


Welcome to the Skeptic Summary, a quick week-in-review guide to the Skeptic Friends Network and the rest of the skeptical world.

Forum Highlights:
A breath of fresh air - Or maybe not.

A challenge: I'm skeptical of skeptics too - aren't we all?

Can science disprove God revisited - I'm still pretty sure it depend on how one defines God.
Editor's Choice: Cyclops among us - Not for the weak of stomach, but the thread does contain examples of skeptics saying, "whoops, I was wrong."
Best of December, 2005:
Topic of the Month: creation/evolution - Bill scott comes to play in our forums.

Post of the Month: A Chris'mas Carol… - filthy offers some wonderful end-of-year observations.
Kil's Evil Pick:
As expected, a google search of psychic predictions for the year 2005 turned up way more misses than hits. More importantly, not one of them, it seems, predicted Katrina or what she did to New Orleans. Ah, well… Psychic Fred Fasset definitely gets my vote for the most practical solution to the problem of too many misses: Psychic Fred's 2005 Predictions.
Chat Highlights:
Sunday: Folding@Home internal competition; better computer for Webcasts; grandparents' sins; other family members; bigbrain's locked threads. Also: the movie Capricorn One; Creation Wiki; Sam Harris; weird movie connections; Star Wars; Urban Dead; instant carma in Mexico; ketchup in New Zealand.

Wednesday: Same as last week… Only this time I had hunter stew. Next week I plan to bring a book and catch up on my reading…

Come chat with us.
New Members this Week:
HalfMooner
vvaffanculo
kryoung
skepticpsychic
BradS.
chanlo23
John Jackson
jmf

(Not a member? Become one today!)
---
Elsewhere in the World:
Bad Science

What's New by Bob Park

Got some skeptic news items? Send them to us, and we'll think about adding them.
Book of the Week:
Remembering Hypatia: a Novel of Ancient Egypt, by Brian Trent





"Remembering Hypatia is a vivid retelling of a now-forgotten historical tragedy, when courage stood against fear, when the legacy of the wise vanished in the dark. Author Brian Trent resurrects the ancient world's most famous metropolis and explores the final days, not just of a brilliant mind, but of a lost era…"

— Book Description
---
More issues of the Skeptic Summary can be found in our archive.

The Skeptic Summary is produced by the staff of the Skeptic Friends Network, copyright 2006, all rights reserved.
---
Read or Add Comments about the Skeptic Summary
Back to Skeptic Summary