Skeptic Summary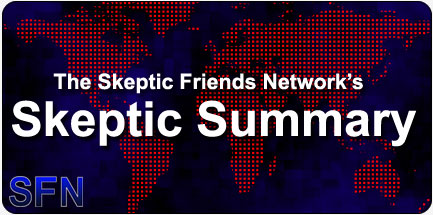 Skeptic Summary #88
By The Staff
Posted on: 4/23/2006

ACLU and Phelps, 'round like a record, easter attacks, hijacked, judicial activism, becoming human and more!



Week ending April 22, 2006 (Vol 3, #15)


Welcome to the Skeptic Summary, a quick week-in-review guide to the Skeptic Friends Network and the rest of the skeptical world.

Forum Highlights:
ACLU to defend Phelps - Well, not really, but maybe sometime soon…

Is the earth really spinning? - Better answers than "Shuddup, daddy is busy!"

War on Easter? - But what if nobody came?

Editor's Choice: This Lunacy Isn't Confined to the US - A record-setter, folks: hijacked by a discussion of the author's post count in the very first reply.

From the Archives Judicial Activism or Judicial Restraint? - What should we do about judges who continually fail to rule in my favor?
Kil's Evil Pick:
Becoming Human
Chat Highlights:
Sunday: Young nurses playing with catheters, and other hospital stories; ocean-side apartments a drawback in case of tsunami; doing taxes; childless middle class women; atheists and religionists working together? Also: tolerance within reason is a good thing; shrimps at BBQ; we have Verlch to thank for making Siberia a member.

Wednesday: Bill and his penchant for quote mining was discussed. Apparently creationism has reared its ugly head in Sweden. Is Mozina history? Kil looks for someone to log chat. (He is starting to think that the upgrade sucks.) Marf talks about the movie Osama. Also, art appreciation is discussed, but is it meta-art or meta-meta-art? Codeine, aspirin and wonton soup slip in somehow. We wrapped things up with our secret SFN handshake and anthem…

Come chat with us.
New Members Last Week:
tyciol
SoBeach
Pipsicle
harrisonpope

(Not a member? Become one today!)
---
Elsewhere in the World:
Bad Science

Flu Spread Follows Finances

What's New by Bob Park

Got some skeptic news items? Send them to us, and we'll think about adding them.
Book of the Week:
Napalm & Silly Putty, by George Carlin.





"Standup comic George Carlin follows up his dark-horse smash bestseller Brain Droppings with another compendium of cranky meditations, cinching his reputation as the Andy Rooney of boomer hepcats. 'Road rage, air rage,' Carlin rails. 'Why should I be forced to divide my rage into separate categories? To me, it's just one big, all-around, everyday rage. I don't have time for fine distinctions.' Carlin is not into the lengthy essay — he's a sprinter of the mind. Most sentences in the book could be lifted out to stand alone and provoke deep thought: 'How can it be a spy satellite if they announce on television that it's a spy satellite?' Good question. 'Why do they bother saying "Raw sewage?" Do some people cook that stuff?' Yuck, but yes, Carlin's got a point.

He can do an extended bit too, most memorably the transcript of Jesus on a talk show plugging his new tell-all memoir about the Trinity, Three's a Crowd. Carlin is funny, but genuinely angry and poignant at times: 'You live 80 years and at best you get about six minutes of pure magic,' he says. Sad, but about right…"

— Amazon.com Review
---
More issues of the Skeptic Summary can be found in our archive.

The Skeptic Summary is produced by the staff of the Skeptic Friends Network, copyright 2006, all rights reserved.
---
Read or Add Comments about the Skeptic Summary
Back to Skeptic Summary