Skeptic Summary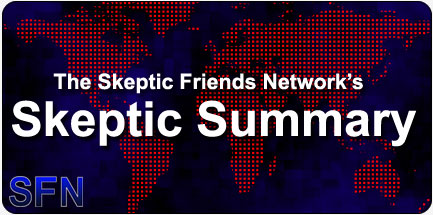 Skeptic Summary #18
By The Staff
Posted on: 12/10/2004

Nextgen English, cartoon skepticism, joke-joke-real-joke, therapy near the holidays, despair and more!



Week ending December 10, 2004 (Vol 1, #18)


Welcome to the Skeptic Summary, a quick week-in-review guide to the Skeptic Friends Network and the rest of the skeptical world.

Forum Highlights:
E-Prime - SFN Member R.Wreck says, "What I classify as God saw that the light seemed to be good; and what seems to be God appeared to separate the light from the darkness."

Three Cheers for South Park, Super Skeptics - It really is a good episode.

Editor's Choice: Flat Earth Society - Will the real group of crackpots please stand up?
Chat Highlights:
The Wednesday chat looked at secular and religious approaches to the winter holidays. Skeptics appear to participate in celebrations — even ones linked to religious practice — if only to keep with cultural tradition, and/or because wives or parents make them. Also, The_Ignored revealed personal conflict in debating people who are ready for the Rapture; Dr. Kil's therapy sessions; tkster's wild summer; and avatar problems for Doomar. Next week, it's back to chat-free-for-all.
Kil's Evil Pick:
Despair, Inc.
New Article:
N. 56, December 2004: Dude, This IS Your Country! - Come on, Massimo, don't hold back: tell us what you really think about the current US political environment.
New Members this Week:
don engel
floridian
crotalus injeel
jjwagg
matt81
geni

(Not a member? Become one today!)
Top Ten Search Terms for the week:
These are the terms typed into search engines which most-frequently result in a person visiting the SFN:

Bryan Marsden
miracle thaw
skeptic
pips scam
owl dollar bill
pips pureinvestor
Owl on dollar bill
Kent Hovind
owl on the dollar bill
creationism/evolution
---
Elsewhere in the World:
Census: Plenty new species in the sea

Evolution Deniers and Holocaust Deniers in a locked step

Scalia To Synagogue — Jews Are Safer With Christians In Charge

Telecom Tests Online Aromatherapy Service

What's New by Bob Park

Got some skeptic news items? Send them to us, and we'll think about adding them.
Book of the Week:
America (The Book): A Citizen's Guide to Democracy Inaction, by the Writers of the Daily Show and Jon Stewart





From the back cover: "This is similar to my works in that anyone who reads it is sure to be an asshole for at least a month afterward." Ayn Rand
---
More issues of the Skeptic Summary can be found in our archive.

The Skeptic Summary is produced by the staff of the Skeptic Friends Network, copyright 2004, all rights reserved.
---
Read or Add Comments about the Skeptic Summary
Back to Skeptic Summary