HalfMooner
Dingaling

Philippines
15831 Posts
Posted - 06/12/2009 : 04:47:48
---
The story you are about to read is neither strictly factual nor deliberately fictional. It's also not one of my parodies, I promise. Instead, it derives from an actual dream I just had. So in a sense, this story is non-fiction, but it can, for convenience, be considered fiction. It's certainly less well researched than most non-fiction, or fiction.

I recall that during the dream, I occasionally tried to check out details by Googling search terms, but, as usual in my dreams, my Internet connection was either lacking, or the dream version of Wikipedia I eventually reached was somehow unreliable and/or even more rapidly mutable than the real Wiki.

The upshot is, some of you tech or science types may notice one or more insignificant errors of fact when it comes down to the nitpicking details of astronomy, rocket science, commonly understood human nature, basic laws of science, etc, etc. My dream memory is fading swiftly, so I will forgo doing fact-checking and corrective research now, in an effort not to forget everything before I've typed it up.

Please don't let these minor glitches be off-putting, I ask. Instead, bear in mind how the following story would have been even more astoundingly enlightening had I only a better dream-time connection to the Inner Webs.

Anyway, all that aside, it is a "narrative" one some kind, and I shall now begin narrating.

It all begins a few years from now, in the future.

In the dream, I am a senior astronaut and administrator at NASA, having leveraged the synergy of my old age, lack of higher education, minor physical disabilities, and general laziness into a position of power and prestige. NASA recognizes natural talent, it seems. There are only a couple of bureaucrats in the agency that are senior to me. Soon, they are no longer a problem, as (off-stage) they both die somehow. Now I'm the guy totally in charge, and mankind can at last get out there.

At the International Space Station, I decree that a stately starship, which I cleverly dub the Interstellar Space Ship, be built. I do a quick and simple design on a napkin for a nuclear-powered, ion-propelled craft capable of going to nearby planetary systems. It's very important that the design and construction be done quickly, because 1) This is a minor plot detail that shouldn't bog down a good story and 2) The voyagers will be in space for a very long time as it is, so wasting time before they even start is counterproductive.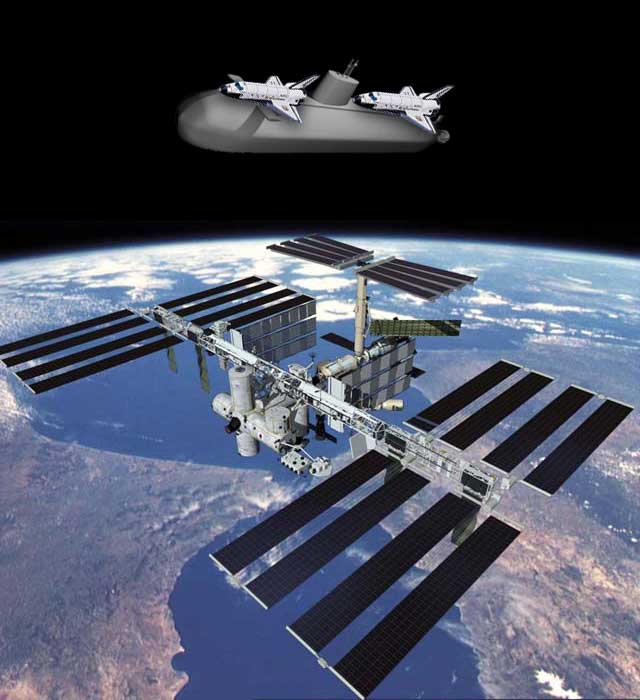 The ISS before departing from the ISS


Within a few weeks a starship that looks suspiciously like a converted nuclear submarine with a couple of spare Space Shuttles tied on, is completed. It's bristling with telescopes and stuff, too. Since it is to be capable of both interstellar travel and of returning to earth, I've had the starship packed with nuclear-fuel-mining equipment like picks and shovels, ore cars and rails, and even had the foresight to have husky little mining ponies, hay, qualified stable hands and veterinarians placed aboard. All it needs are about a dozen astronauts, so I assign an international crew and send them on their way toward Alpha Centauri.

Being a thoughtful ruler of NASA and allied agencies, I sit in my comfortably padded chair in the ISS (the station, not the starship) and consider the fate of the ISS (the starship). It's been several years, and the Interstellar Space Ship has long ago cleared the heliopause. It occurs to me that the Mission Plan ("Leave the Solar System and find a planet people can live on, also let us know if you find other people out there") and the hardware assembled to accomplish the mission, though in turns daring and smashingly advanced, aren't perfect. I decide it's not too late to make a few tweaks to the mission.

I have an old X-15 rocket plane that was just sitting around in a museum sent up to the ISS (the station). I cram the X-15's trunk with newspapers, liquor, tobacco, magazines, condoms, ice cream and novels to boost the morale of the crew of ISS (the starship), and pack in extra tools, nuclear fuel, and assorted replacement components. I selflessly go off alone to catch up with and resupply the starship.

After several weeks, months, or years of travel (the exact time required is now hazy, but remember, X-15s were fast) I rendezvous with the starship, and come aboard. At first glance, the crew seems happy and well adjusted, especially considering their extreme isolation. They have invented new space-games and space-sports and have mostly settled down into happy couples. They are not suffering from any form of cabin sickness, yet are still fired up at the prospects of exploring the Alpha Centauri system whenever they get there. (The crew naturally has a lively betting pool on how many years or centuries the voyage will require.)

Still, being an expert judge of people, within a few minutes of my coming aboard the starship I have keenly analyzed the social dynamics of the crew. I see subtle problems that are likely to become major ones if left unchecked. So I make a few judicious changes in the crew's social structure, demoting a Captain here, promoting a stable hand there, and reassigning domestic partners via a complex scheme I invent on the spot. There are a few raised eyebrows at my actions, but these are professional astronauts (and stable hands and vets), and they obey my commands like good soldiers, doubtless understanding that my measures, in time, will prove wise.

As payload mass is a critical factor in space travel, I order a comprehensive audit of all materials on board, valuing everything both by mass and by importance (V=I/M). We find that none of the bathroom scales work properly for gaging mass in microgravity, so they are among the first items tossed overboard. For other items, the crew and I estimate masses by feel, pushing and pulling on things to get an idea. Massive, cheap stuff is simply jettisoned, while expensive things that are heavy but unimportant are crammed into the X-15's trunk for later reuse.

Soon I have everything squared away aboard the ISS (starship). The happy crew (I'd never seen them this happy!) throws a grand party and sends me on my way.

(Part 2 continues here.)


---
"Biology is just physics that has begun to smell bad." —HalfMooner
---
Here's a link to Moonscape News, and one to its Archive.
---
Edited by - HalfMooner on 06/14/2009 06:46:10