<!- Thermometer: $0 at 392, $100 at 268, $200 at 143, $300 at 18. -->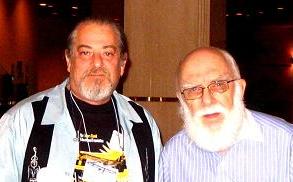 Please help to send Kil, that's me (David Glück, the Evil Skeptic), to TAM 2014!
As I have in many previous years, I would like to again represent the Skeptic Friends Network at the annual Amaz!ng Meeting which will be the center of the skeptical universe for at least four days in mid-July, 2014.
The problem for me is that it is a fairly expensive proposition. While my registration has been covered with a JREF forum grant, lodging will be mostly covered, but then there will be food, plane fare, and other traveling expenses. We'd like to aim to gather about $300. And unlike the JREF, The Skeptic Society and The Center for Inquiry, we only have an online presence, which means we run the SFN on a shoestring budget.
So here I am, with cap in hand, asking for donations from our members to get me there (just click the "Make a Donation" button, above). In return I promise to do us proud and, of course, write about my adventures at TAM 2014, whether it be in a dedicated thread as TAM happens, or a Kil Report again. How can you resist that?
Perhaps I should mention that I'm not trying to save myself some money. I really won't be able to go if I don't raise enough to go. This stinking recession has hit my profession hard, and I've been in full survival mode for the last five years.
Thanks!
— Kil
Note: In the event that I don't raise enough to go (or raise too much), I will either use the money to start a TAM 2015 account, use it for a similarly high-profile skeptic event or refund your donation, as requested.
Note also: Unfortunately, donations made for this effort are not tax deductible.
Questions and Comments are Welcome.