Skeptic Summary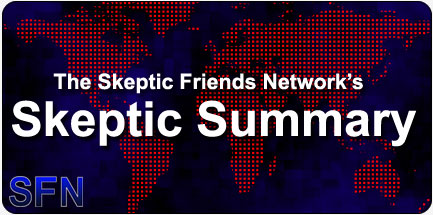 Skeptic Summary #2
By The Staff
Posted on: 8/20/2004

Rabid lepers, agnosticism in the spolight, the never-ending thread, going off to college, Hubbard's evolution and more!



Week ending August 20, 2004 (Vol 1, #2)


Welcome to the Skeptic Summary, a quick week-in-review guide to the Skeptic Friends Network and the rest of the skeptical world.

Forum Highlights:
Mad Dog! Mad Dog! - Rabies and leprosy, all in one thread. How can you go wrong?

Is the agnostic position on god a valid one? - Or is it a position all to itself at all?

Anyone seen 'www.psipog.net'? - A thread which just won't die!

Editor's Choice: Last post from NJ - SFN member Ricky is off to college, but no "empty nest syndrome" for us: he's got Internet access!
Kil's Evil Pick:
Evolution, Scientology Style - From our Creation/Evolution articles, a book review of A History of Man by L. Ron Hubbard.
New Members this Week:
H. Humbert
Ammerz
Count Deonic
paulgibson
AutomaticSlim

(Not a member? Become one today!)
---
Elsewhere in the World:
Dead Sea Scrolls dig up controversy

Kent Hovind and the Civilized Society

Out from the Shadows: Two New Saturnian Moons

Scholar says he's found John the Baptist's cave

What's New by Bob Park

Got some skeptic news items? Send them to us, and we'll think about adding them.
---
More issues of the Skeptic Summary can be found in our archive.

The Skeptic Summary is produced by the staff of the Skeptic Friends Network, copyright 2004, all rights reserved.
---
Read or Add Comments about the Skeptic Summary
Back to Skeptic Summary