Skeptic Summary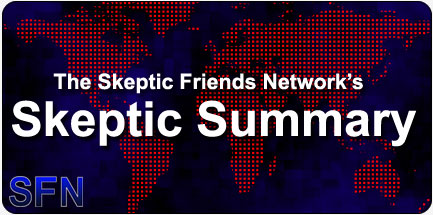 Skeptic Summary #4
By The Staff
Posted on: 9/3/2004

Spooky stuff, SETI, email, circles and squares, the West Memphis Three, Monty Python and more!



Week ending September 3, 2004 (Vol 1, #4)


Welcome to the Skeptic Summary, a quick week-in-review guide to the Skeptic Friends Network and the rest of the skeptical world.

Forum Highlights:
Freaky-Deaky, baby - Boo!

SETI - SETI@Home news!

SFN Email Upgrade! - If you've got a skepticfriends.org email address, or you'd like one, read this thread.

Editor's Choice: Thought I'd Share… - Ever been baffled by simple shapes? You're not alone.
Kil's Evil Pick:
Free the West Memphis Three - Although there was no physical evidence, murder weapon, motive, or connection to the victims, the prosecution pathetically resorted to presenting black hair and clothing, heavy metal t-shirts, and Stephen King novels as proof that the boys were sacrificed in a satanic cult ritual. Unfathomably, Echols was sentenced to death, Baldwin received life without parole, and Misskelley got life plus 40.
New Articles:
Rationally Speaking, N. 53, September 2004: Monty Python's Guide to Philosophy - Are secular humanists a bunch of dreary negative Nellies? Monty Python and Massimo say 'no'.
New Members this Week:
imp
coffee_is_lord
Tgirl
Villain

(Not a member? Become one today!)
---
Elsewhere in the World:
Clara Barton, Psychic Detective (?)

Energy Healing: Looking in All the Wrong Places

The final installment of Fundies Say the Darndest Things

Rusty Results

What's New by Bob Park

Got some skeptic news items? Send them to us, and we'll think about adding them.
Book of the Week:
The Demon-Haunted World: Science as a Candle in the Dark, by Carl Sagan


---
More issues of the Skeptic Summary can be found in our archive.

The Skeptic Summary is produced by the staff of the Skeptic Friends Network, copyright 2004, all rights reserved.
---
Read or Add Comments about the Skeptic Summary
Back to Skeptic Summary