Skeptic Summary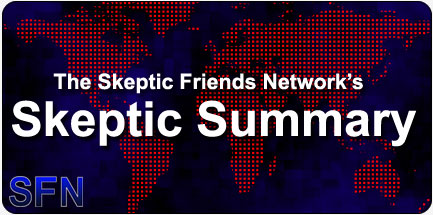 Skeptic Summary #10
By The Staff
Posted on: 10/15/2004

Not that debate, ponzi defense, poll questions, the fiction channel, help for the hoax-challenged, modern myths and more!



Week ending October 15, 2004 (Vol 1, #10)


Welcome to the Skeptic Summary, a quick week-in-review guide to the Skeptic Friends Network and the rest of the skeptical world.

Forum Highlights:
Debate, first round - Yes, it's finally begun.

Investment schemes - Oh, just hand over your money to us already! (Related FTC Info)

Poll Suggestions - The SFN polling feature is underutilized, but you can help!

Proof Positive - How many people will believe the Science Fiction Channel?

Editor's Choice: In Need of Devious Minds - One of SFN's own needs help pranking the credulous.
Kil's Evil Pick:
Urban Legends Reference Pages
New Members this Week:
NGR
Mike D
Iminpips
Rev Prez
ilovemyson
Funkshuntheta
lapcus
webby4x4

(Not a member? Become one today!)
Top Ten Search Engine Referral Phrases This Week:
www.isbushwired.com (zillions of variations)
PIPS Scams (jollypipster)
Pureinvestor (scam)
Mt St. Helens
Skeptic
Presidential debate
Keith Miller (messerschmitt)
Evolution/creationism
Sylvia Browne
Miracle Thaw
---
Elsewhere in the World:
If You Secretly Like Michael Bolton, We'll Know

Study: Human lie detectors rarely wrong

'Superman' Star Christopher Reeve Dead at 52

What's New by Bob Park

Got some skeptic news items? Send them to us, and we'll think about adding them.
Book of the Week:
Why People Believe Weird Things: Pseudoscience, Superstition, and Other Confusions of Our Time, by Michael Shermer





"UFO abductions… television psychics… creationism… Holocaust denial. Faced with the rapid changes and anxiety of modern life, many people are turning to the alluring comforts of pseudoscience and the occult. In Why People Believe Weird Things, science historian Michael Shermer, the publisher of Skeptic magazine and director of the Skeptics Society, explores the very human reasons we find supernatural phenomena, conspiracy theories, and cults so appealing."

— Amazon review
---
More issues of the Skeptic Summary can be found in our archive.

The Skeptic Summary is produced by the staff of the Skeptic Friends Network, copyright 2004, all rights reserved.
---
Read or Add Comments about the Skeptic Summary
Back to Skeptic Summary