Skeptic Summary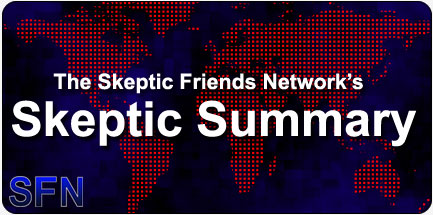 Skeptic Summary #26
By The Staff
Posted on: 2/4/2005

Dr. Mayr passes, impossibilities, Olympic math, tiny mummy, old-fashioned creationist, Sin City, Cold Reading, God and more!



Week ending February 4, 2005 (Vol 2, #5)


Welcome to the Skeptic Summary, a quick week-in-review guide to the Skeptic Friends Network and the rest of the skeptical world.

Forum Highlights:
Evolution loses a friend - Or, more accurately, "the Darwin of the 20th century."

Is Impossible, Impossible? - Why, that's impossible.

Olympic myth? - Break out your calculators, folks.

Editor's Choice: Pedro The Mountian Mummy - Wanted: dead or dead.

From the Archives: Question on Skeptics - A good, old-fashioned "skeptical" creationist.
Kil's Evil Pick:
Welcome to SINCITY… Penn and Teller
New Articles This Week:
Cold Reading - SFN member filthy gives us an overview of the ubiquity of the practice of cold reading, including some words on some famous cold readers.

Rationally Speaking N. 58, February 2005: God Did It, or Did He? - Massimo looks at God's tragedies and miracles, and doesn't particularly like what he sees.
Chat Highlights:
Sunday: Hot babes in Hollywood (which almost derailed ), Steven Hawking, Siberia's Photoshopped pictures prove her talent, Kubrick movies, music, and finally more puke stories. Interest in the Sunday chats seems to be increasing.

Wednesday: Since no one seems to have actually seen Bush's State of the Union address, chat quickly went off topic. Topics included wireless woes; admins to everybody: "You're fired!"; long time, no see, Trish; ditto, ktesibios; no eggrolls for Kil?; and serious False Memory discussion.

Come chat with us.
New Members this Week:
Faustus
testtestest
pinky

(Not a member? Become one today!)
---
Mark Your Calendars:
There will be a "Conscious Life Expo" at the Los Angeles Airport Hilton Feb 11- 13. Any SFN members who would like to experience a "New Age Expo" with an Evil Skeptic please contact Kil with a PM or an email, or a reply in this thread.

Who knows? Maybe this will lead to an "Evil Skeptic III" report…
Elsewhere in the World:
Bad Science

Claims of Invalid "Shroud" Radiocarbon Date Cut from Whole Cloth

Congress frets over Hubble

Daring to tackle sex in Hinduism

New York Times: Teachers pressured to avoid evolution

What's New by Bob Park

Got some skeptic news items? Send them to us, and we'll think about adding them.
Book of the Week:
The Great Betrayal: Fraud in Science by Horace Freeland Judson





"The Great Betrayal is not simply a narrative of scandals, but places various instances of scientific bad behavior in the context of general social pressures and their manifestation in the scientific community. He reminds us that the drive for economic success, personal power, and the gratification of one's ego has led over and over to dishonesty, fraud, and wickedness in business, the church, and the state. Why do we think that the devotees of Newton's laws will be more saintly than those ruled by Cardinal Law?"

— Richard C. Lewontin, New York Review of Books
---
More issues of the Skeptic Summary can be found in our archive.

The Skeptic Summary is produced by the staff of the Skeptic Friends Network, copyright 2005, all rights reserved.
---
Read or Add Comments about the Skeptic Summary
Back to Skeptic Summary