Skeptic Summary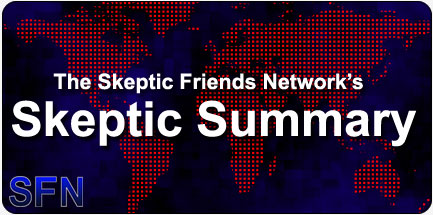 Skeptic Summary #29
By The Staff
Posted on: 2/25/2005

A stumper, a bumper, a floater, a bender, a waste, a challenge and more!



Week ending February 25, 2005 (Vol 2, #8)


Welcome to the Skeptic Summary, a quick week-in-review guide to the Skeptic Friends Network and the rest of the skeptical world.

Forum Highlights:
Petals Around the Rose - It isn't whether you win or lose…

PrimeTime… again - James Randi got 19 whole seconds.

What a Crock! - How big was that flood, anyway?

Editor's Choice: Key Bending - Say hello to Uri Geller, jr.

From the Archives: Pointless military operations of the last century - Vote for your favorite.
Kil's Evil Pick:
Challenge to Fred Williams - Kil's thrown gauntlet is kicked aside.
Chat Highlights:
Wednesday: It was a tame chat this week, but interesting — as usual! One theme kept creeping into the conversation: Creationism! (What else?) Also: Funding graduate school, including MacArthur 'genius' grants and the Nobel Prize (keep dreaming!); California rainin'; one-liners; SFN shop talk; @tomic's website adventures; Welcome, sumnihil! Stay tuned next Wednesday for more good times from SFN!

Come chat with us.
New Members this Week:
Mbahlanda
belt
skiddum
odintim
Flatty
Evolouie
sumnihil
kpautz
LCrys612
MaxSkep

(Not a member? Become one today!)
---
Elsewhere in the World:
Bad Science

Read data with dose of healthy skepticism

Scientists feel stifled by Bush administration

Skepticism Remains as NASA Makes Progress on Internal Culture

What's New by Bob Park

Got some skeptic news items? Send them to us, and we'll think about adding them.
Book of the Week:
Jaguars Ripped My Flesh, by Tim Cahill





"The author of A Wolverine Is Eating My Leg and Pecked to Death by Ducks gives new meaning to the words 'going to extremes' in this exhilarating — and frequently hilarious — collection of adventure travel writing. 'Cahill … (writes) with the precision of John McPhee and Joan Didion tempered by a Monty Pythonesque sense of the absurd.' (San Diego Union-Tribune)"

— Product Description
---
More issues of the Skeptic Summary can be found in our archive.

The Skeptic Summary is produced by the staff of the Skeptic Friends Network, copyright 2005, all rights reserved.
---
Read or Add Comments about the Skeptic Summary
Back to Skeptic Summary