Skeptic Summary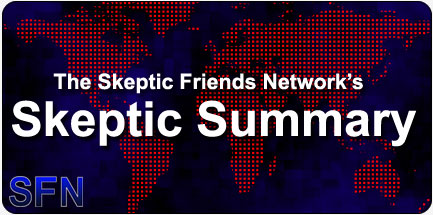 Skeptic Summary #38
By The Staff
Posted on: 4/29/2005

EU Constitution, guns-guns-guns, atheist proof, save an embryo, unproven therapies, Jesus and more!



Week ending April 29, 2005 (Vol 2, #17)


Welcome to the Skeptic Summary, a quick week-in-review guide to the Skeptic Friends Network and the rest of the skeptical world.

Forum Highlights:
European Constitution - We have met King George and he is us.

Guns - Ready, aim…

What constitutes proof for an atheist? - Time to use your imagination, or maybe a dictionary.

Editor's Choice: Would you save an embryo from a burning building? - A very good question.
Kil's Evil Pick:
Commission for Scientific Medicine and Mental Health - "The Commission for Scientific Medicine and Mental Health (CSMMH) is devoted to the scientific examination of unproven alternative medicine and mental health therapies, which have become increasingly popular in the United States and the world.

The application of modern science to mental and physical health has allowed human beings to overcome age-old maladies and increase longevity. Despite the clear progress in human mental and physical well being, many patients and practitioners have embraced unfounded, and sometimes dangerous, practices, both ancient and new. In recent years, a wide range of unconventional therapies has appeared on the public scene. The fields of medicine and mental health have witnessed a widening gap between research and practice…"
From the Archives:
Did Jesus Really Exist? (Part 3) - Just when you thought it was safe…
Chat Highlights:
Sunday: First out: Ricky's close encounter; Canadian geography; why, SNAKES! Also: CSI series on TV, DNA matching; venomous creatures; red dwarf; photo-shopping instruments, and puns; Phantom of the Opera.

Wednesday: Ricky once again recaps his confrontation with the truck. The prognosis — his head is good. Also: Super-Jesus?; the_ignored posts more fundie links; cutting puns; Mab's hip; an ill Kil; more games (but none touch the original); more recap of the truck; Dead Like Me; and how old is she again? how old are you?!? Confused? Come by next week and figure it all out!

Come chat with us.
New Members this Week:
DK
rothenmr
slpage
Skeppy
drterp
Silvia
mazz

(Not a member? Become one today!)
---
Elsewhere in the World:
Bad Science

Debate on Evolution in Kansas Schools Could Re-ignite

Hibernation might lead to new treatments

School board votes to add Bible elective

Voice of Reason: The Myth of Tsunami Survivors' Sixth Sense

What's New by Bob Park

Got some skeptic news items? Send them to us, and we'll think about adding them.
Book of the Week:
Adam's Curse: A Future without Men, by Bryan Sykes





"[Adam's Curse] stands out… Sykes, a professor of genetics at Oxford University and author of the best-selling The Seven Daughters of Eve, sounds loud alarms about an impending biological crisis involving the Y chromosome. He also makes bold sociobiological claims about the effect of the Y chromosome on our lives. Because Sykes is a leading researcher in the study of sex chromosomes (not to mention a science adviser to the House of Commons), his pronouncements merit special attention."

— H. Allen Orr, New York Review of Books
---
More issues of the Skeptic Summary can be found in our archive.

The Skeptic Summary is produced by the staff of the Skeptic Friends Network, copyright 2005, all rights reserved.
---
Read or Add Comments about the Skeptic Summary
Back to Skeptic Summary