Skeptic Summary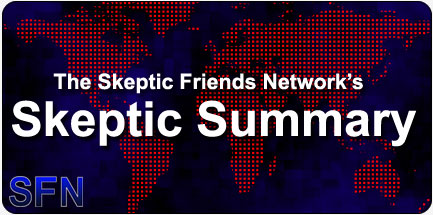 Skeptic Summary #41
By The Staff
Posted on: 5/20/2005

Barna, fundies, greetings, logical deism, peace, popes, newage and more!



Week ending May 20, 2005 (Vol 2, #20)


Welcome to the Skeptic Summary, a quick week-in-review guide to the Skeptic Friends Network and the rest of the skeptical world.

Forum Highlights:
Barna - A valuable resource.

Fundies - Kil is on a rampage… RUN!

Good morning? - [Insert cheery music and chirping birds here.]

Editor's Choice: I am a logical Deist - This showed up just in time for this week's Summary.

From the Archives: PEACE - Can't we all just get along?
New Article This Week:
Habemus Papa! - Massimo takes a look at the old Pope, and the new one.
Kil's Evil Pick:
New Age Wackos
Chat Highlights:
Sunday: Chat was unusually short, only 2 hours. Only time for: health, bike rides, and assorted puns.

Wednesday: Chat started with a discussion about the big news of the day: Episode III. Also: ID T-shirt slogans; movie-going; dancing or performing?; noo-clee-ar options; Michelle's imposter?; if I had a million dollars (at 5% interest), and more ID slogans! Also, space elevators and random sillyness…

Come chat with us.
New Members this Week:
Franko
JackWhack
badrescher
Zaya

(Not a member? Become one today!)
---
Elsewhere in the World:
Bad Science

Death toll climbs from Ebola-like fever

DNA Study Yields Clues on First Migration of Early Humans

Low-Fat Diet May Cut Return of Breast Cancer

Misconceptions about the Big Bang

Scholar's Survivors Sue Doctors, Hospitals

What's New by Bob Park

Got some skeptic news items? Send them to us, and we'll think about adding them.
Book of the Week:
Jesus the Magician, by Morton Smith



"Smith presents an interesting thesis, namely that the contemporaries of Jesus viewed him as a goes or magus — a magician. More interesting than his thesis (which is not always entirely convincing), however, is his methodology. He argues that "if we want to understand a man, we had better hear not only what is said by those who believe his claims, but also what is said by those who do not." (p. 1) But since the New Testament is a collection of works which agree with Jesus' claims, finding out what his opponents say is difficult work. Yet Smith nevertheless does a marvelous job of teasing negative views of Jesus out of the sources. Many will appreciate his use of extra-Biblical sources, with which many non-specialists are unfamiliar.

One major drawback of the paperback edition (the only one currently available) is the fact that the the publisher neglected to include footnotes, though at times Smith actually sends the reader there for clarification! This aside, the book is a useful tool for studying Jesus and the New Testament."

— Cuneiformist
---
More issues of the Skeptic Summary can be found in our archive.

The Skeptic Summary is produced by the staff of the Skeptic Friends Network, copyright 2005, all rights reserved.
---
Read or Add Comments about the Skeptic Summary
Back to Skeptic Summary