Skeptic Summary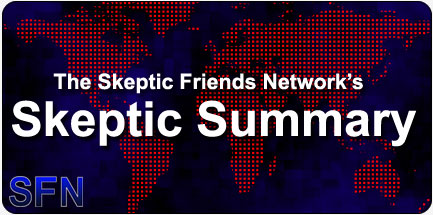 Skeptic Summary #42
By The Staff
Posted on: 5/27/2005

The Pentagon plane, three-ring creationism, more newage, buckley's beliefs, higher powers, ex-woos and more!



Week ending May 27, 2005 (Vol 2, #21)


Welcome to the Skeptic Summary, a quick week-in-review guide to the Skeptic Friends Network and the rest of the skeptical world.

Forum Highlights:
9/11 Pentagon No Plane - This stuff seems to still be going strong.

Ken Ham's Flying Circus update - Watch the creationist jump through a ring of hellfire!

New Age Fair - Don't leave Ricky hanging.

Editor's Choice: Wm. F. Buckley's NPR Essay - Buckley is going to hell.

From the Archives: 12 Step Programs Higher Power - About installing "Higher Power" program subroutines into you.
Kil's Evil Pick:
Confessions Of An Ex-Woo - by Sharon Sifford
Chat Highlights:
Sunday: Advanced Dungeons and Dragons books about the stories of Dark-elf hero Drizzt Do'Urden; motorbikes, accidents and driving thrills; Star Wars III, things good and less good. Also discussed: snakes, Franco, creationists, and finally, twisted fiction.

Wednesday: chat saw Ricky fret about getting a computer that does hexa-something binary pentameter. Or something. Also: work woes; house woes; poisonous snake woes; Vger and space travel; re Star Wars: where are all the Jedi women (Yaddle doesn't count); crazy cults; and bad children's books.

Come chat with us.
New Members this Week:
UKBillsfan
mintartini
alweiss
SH23
skepticality

(Not a member? Become one today!)
---
Elsewhere in the World:
Featured Web Site: skepticality - truth in podcasting.

Bad Science

The Skeptic's Dictionary Newsletter 55

What's New by Bob Park

Got some skeptic news items? Send them to us, and we'll think about adding them.
Book of the Week:
On Bullshit, by Harry G. Frankfurt





"[Frankfurt] tries, with the help of Wittgenstein, Pound, St. Augustine and the spy novelist Eric Ambler, among others, to ask some of the preliminary questions — to define the nature of a thing recognized by all but understood by none… What is bullshit, after all? Mr. Frankfurt points out it is neither fish nor fowl. Those who produce it certainly aren't honest, but neither are they liars, given that the liar and the honest man are linked in their common, if not identical, regard for the truth."

— Peter Edidin, New York Times
---
More issues of the Skeptic Summary can be found in our archive.

The Skeptic Summary is produced by the staff of the Skeptic Friends Network, copyright 2005, all rights reserved.
---
Read or Add Comments about the Skeptic Summary
Back to Skeptic Summary