Skeptic Summary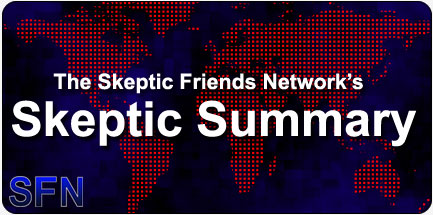 Skeptic Summary #45
By The Staff
Posted on: 6/18/2005

Global warming, the heat in Kansas, American Taliban, a fish story, a fashionable dictionary and more!



Week ending June 17, 2005 (Vol 2, #24)


Welcome to the Skeptic Summary, a quick week-in-review guide to the Skeptic Friends Network and the rest of the skeptical world.

Forum Highlights:
Global Warming for Real? - Yeah, but it's a dry heat!

It's gettin' warmer in Kansas… - Transcripts from the "science hearings" are now available.

Quotes from the American Taliban - One nation, under Yahweh…

Editor's Choice: A bit fishy… - Solve the puzzle and win a cookie.


Kil's Evil Pick:
The Fashionable Dictionary
Chat Highlights:
Sunday: At 7 pm Eastern Time, Skepticality Show hosts Derek and Swoopy arrived. Discussions with our guests: debunking "clap-trap"; Rob from Circlemakers (Skepticality show #7) drops by; Sunday record with 11 active users logged on at the same time; tips for the Skepticality show; Signs — the movie, and other movies; Muppets and Sesame Street. Also: the origin of Skepticality; crop circles, an advertising opportunity? potential customers: Audi… Bachardi already has one; Kil invited to appear on Skepticality; goth and "The Intrepid Fox," restroom urinal inventions to reduce nastiness. The chat closed slightly after 9 pm Eastern Time, many thanks to our special guests, Derek and Swoopy!

Wednesday: Welcome to Giltwist, congratulations to his first official chat. Testing Parachat glitches; God of the gaps; emotions & what is irrational about them? Also: good deals; currencies; radiation from CRT monitors and gasses; hypnotism.

Come chat with us.
New Members this Week:
brettrq2
brett steinberger
gsiac
nickspann
vulgar
markie
handy50322

(Not a member? Become one today!)
---
Elsewhere in the World:
Bad Science

Evidence of ancient Egyptian glassmaking

NASA: Earliest manned moon landing in 2015

'Religious bullying' at US academy

Skepticality show #8

What's New by Bob Park

Got some skeptic news items? Send them to us, and we'll think about adding them.
Book of the Week:
Greetings, Carbon-Based Bipeds!: Collected Essays, 1934-1998, by Arthur C. Clarke





"Though best known as the author of 2001: A Space Odyssey, Clarke has been a scientist and writer of nonfiction for almost two-thirds of a century. This collection is organized chronologically by decade, affording the reader insights into Clarke's odyssey from gifted amateur to cultural icon. In his essays, Clarke promotes the notion that science fiction's role should be inspirational rather than informative, but that science itself is merely a tool to serve the higher ends of humankind."

— Publishers Weekly
---
More issues of the Skeptic Summary can be found in our archive.

The Skeptic Summary is produced by the staff of the Skeptic Friends Network, copyright 2005, all rights reserved.
---
Read or Add Comments about the Skeptic Summary
Back to Skeptic Summary