Skeptic Summary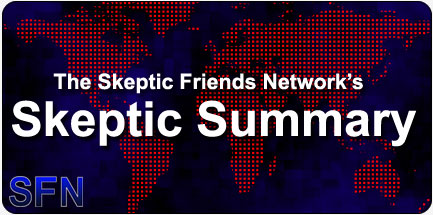 Skeptic Summary #46
By The Staff
Posted on: 6/24/2005

Project me to the Moon, drunk on foolishness, religionology, cheap-and-easy mastery, the evil eye and more!



Week ending June 24, 2005 (Vol 2, #25)


Welcome to the Skeptic Summary, a quick week-in-review guide to the Skeptic Friends Network and the rest of the skeptical world.

Forum Highlights:
Astral Projection - Well, maybe some sort of projection…

Creationist drinking game - Dude, I am sooooooo plowed…

Info about Scientology - Hi. My name is Tom Cruise. Could I get some publicity?

Editor's Choice: Become a reiki master - It's so damn easy, why isn't everyone doing it?
Kil's Evil Pick:
Whimsicality show #4: EVIL EYE!
Chat Highlights:
Sunday: Dr. Mabuse laments over never-ending computer problems; someone calling himself "elvergon" joins the chat, and after a short while it seems obvious it is our banned member latinijral revisiting SFN to check us out. Also: the Formula-1 scandal in Indianapolis; where is Verlch these days?; Microsoft games, "Age of…" series (you know, the Civilization rip-offs); writing fiction. Finally, some talk about Intelligent Design.

Wednesday: Members' computer systems, and Kil is running anti-virus; the movie The Village; lawsuits in member's favour. Also: PBS showing Feng Shui; someone's plastered; geography. Finally: Kil is still running anti-virus; the Solar-sail satellite, rumour says it crashed in Finland.

Come chat with us.
New Members this Week:
zhang
rosaf
Halcyon Dayz

(Not a member? Become one today!)
---
Elsewhere in the World:
Bad Science

The Bible is a Hoax

Faked orgasms don't fool brain scans

Plain, Simple, Primitive? Not the Jellyfish

Skepticality show #9 and Whimsicality show #4

The Skeptic's Dictionary Newsletter 56

What's New by Bob Park

Why Mainstream Coverage of Global Warming Has Failed

Got some skeptic news items? Send them to us, and we'll think about adding them.
Book of the Week:
Don't Panic: Douglas Adams & the Hitchhiker's Guide to the Galaxy, by Neil Gaiman





"Acclaimed author Neil Gaiman celebrates the life of Douglas Adams who, in a field in Innsbruck in 1971, had an idea that became The Hitchhiker's Guide to the Galaxy — the radio series that started it all, the five book 'trilogy,' the TV series, almost-film, and everything that followed. Don't Panic also tells the story of the other projects Douglas worked on, including his posthumous collection The Salmon of Doubt."

— Book Description
---
More issues of the Skeptic Summary can be found in our archive.

The Skeptic Summary is produced by the staff of the Skeptic Friends Network, copyright 2005, all rights reserved.
---
Read or Add Comments about the Skeptic Summary
Back to Skeptic Summary