Skeptic Summary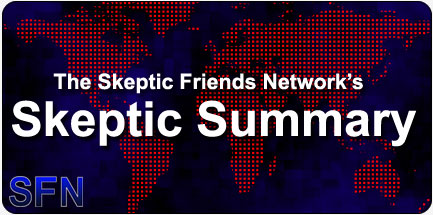 Skeptic Summary #55
By The Staff
Posted on: 8/26/2005

Religious scientists, Robertson's chutzpah, global warming, free power, Intelligent Design creationism and more!



Week ending August 26, 2005 (Vol 2, #34)


Welcome to the Skeptic Summary, a quick week-in-review guide to the Skeptic Friends Network and the rest of the skeptical world.

Forum Highlights:
Can you be a good scientist and believe in God? - A fundamental question in today's "culture war" between science and religion.

Robertson: U.S. should kill Chavez - Those pesky atheists will be next up against the wall!

Top anti-globalwarming paper is debunked - We are so boned.

Editor's Choice: This guy has a funny idea of zero energy input - Another lesson in how patents don't mean that something works.
Kil's Evil Pick:
The Top 10 Intelligent Designs (or Creation Myths)
Chat Highlights:
Sunday: First out: fighter aircrafts; court decision to give atheism the same status as religion; Podcast Alley discussion; "impossible" physical feats and reserve power inherent in the human body. Also: actors and language/dialects; Rapture Ready and Theology Web; programming and JSP (not the web-language); energy of the future: power your car with alcohol or nuclear fuel?

Wednesday: Chat opened with a discussion of puzzles "for ungrateful bastards." Also: Chicago schools; vowel movements; Rush & Rove; Skepticality; C++ and other mediocre grades; Cune get abused!; jokes galore; and SFN @ TAM. To learn more, you know what to do…

Come chat with us.
New Members this Week:
garnerjl
Jumbo
CourseKnot
rongee
freezingnics
adityanm

(Not a member? Become one today!)
---
Elsewhere in the World:
Bad Science

China Inaugurates First Lunar Probe Engineering Center

Climate Flux Could Have Fostered Early Human Speciation, Diatom Study Suggests

Evolving opinion of one man

Military Laser Brings 'Star Wars' Reality Closer

9 states break with Bush at global climate meeting

The Skeptic's Dictionary Newsletter 58

What's New by Bob Park

Got some skeptic news items? Send them to us, and we'll think about adding them.
Book of the Week:
Panati's Extraordinary Origins of Everyday Things, by Charles Panati





"For lovers of facts, students of popular culture, history buffs, and science enthusiasts, the fascinating stories behind 500 everyday items, expressions, and customs — from Kleenex to steak sauce, Barbie Dolls to honeymoons. "

— Book Description
---
More issues of the Skeptic Summary can be found in our archive.

The Skeptic Summary is produced by the staff of the Skeptic Friends Network, copyright 2005, all rights reserved.
---
Read or Add Comments about the Skeptic Summary
Back to Skeptic Summary