Skeptic Summary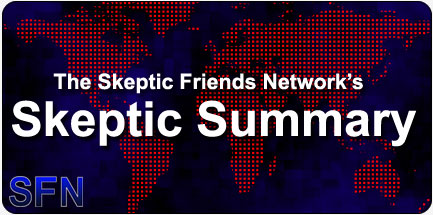 Skeptic Summary #58
By The Staff
Posted on: 9/18/2005

Obesity, pledging, the wrath of Katrina, telepathetic powers and more!



Week ending September 16, 2005 (Vol 2, #37)


Welcome to the Skeptic Summary, a quick week-in-review guide to the Skeptic Friends Network and the rest of the skeptical world.

Forum Highlights:
Can obesity be considered an epidemic? - A weighty matter, heavily debated.

School Pledge Is Unconstitutional - All of it or just parts of it?

Editor's Choice: Katrina Was Punishment from God - But which god?
Kil's Evil Pick:
Achau Nguyen Test - On July 23, 2005, The Independent Investigations Group (IIG), in conjunction with the James Randi Educational Foundation (JREF), conducted a test of alleged telepathic ability. This test was held at the Center for Inquiry-West (CFIW) in Hollywood, CA.
Chat Highlights:
Sunday: Bush rantings; wishing well and get better to Derek of Skepticality; cars versus bikes in accidents; alternate fuels for cars, what is the difference between flexi-fuel, bi-fuel, and hybrid? Also: environmental idiots collect names for turning down the Kyoto accord; industrial robots and Robot Wars robots; trouble shooting chat and Java VM.

Wednesday: Slow chat night. Storm, the_ignored and Ricky stopped by for a while. Also Trish and Kil. Storm finds Freeconservatives boring. Ricky's philosophy essay, philosophy of falsification in science chat. Trish complains she has to buy a new Popper book which lead naturally into some Popper penguin puns (don't ask!). Precocious kids beating parents at math. Trish is working bloody hard for her tuition money in the hospital (phlebotomy). Healthcare coverage issues were discussed. Derek of Skepticality was on everybody's minds. [Thanks to the_ignored for this week's highlights.]

Come chat with us.
New Members this Week:
zhweetie_gal
Ryujin
iodizedsalt
Zombie

(Not a member? Become one today!)
---
Elsewhere in the World:
Astronomers Observe the Most Distant Explosion in the Universe

Bad Science

What's New by Bob Park

Got some skeptic news items? Send them to us, and we'll think about adding them.
Book of the Week:
The Straight Dope, by Cecil Adams





"No molly coddle, he, Cecil Adams tackles the tough questions in life, including 'Do cats have navels?' and 'What are the real lyrics to "Louie, Louie"?' Uncompromising and always entertaining, he explodes myths, reveals shocking truths and answers over 400 of the most pressing questions of this or any day."

— Book Description
---
More issues of the Skeptic Summary can be found in our archive.

The Skeptic Summary is produced by the staff of the Skeptic Friends Network, copyright 2005, all rights reserved.
---
Read or Add Comments about the Skeptic Summary
Back to Skeptic Summary