Skeptic Summary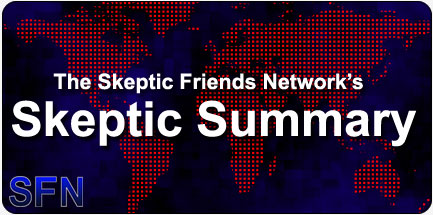 Skeptic Summary #71
By The Staff
Posted on: 12/17/2005

Bruce and God, still more Cassini, life and death, honesty, weird inventions and more!



Week ending December 17, 2005 (Vol 2, #50)


Welcome to the Skeptic Summary, a quick week-in-review guide to the Skeptic Friends Network and the rest of the skeptical world.

Forum Highlights:
Bruce Almighty - Is this thread about the movie, or is it an attack on skepticism?

Cassini, a man-made satellite - bigbrain continues to fearfully run from the single question asked of him, even pulling in the 9/11 Pentagon strike and the Italian agent shooting.

Life a preperation for Death - Here's to Freyja (and everyone else's non-human companions)

Editor's Choice: error - Finally a little honesty.
Kil's Evil Pick:
Weird Inventions from the Attic - "All rules of practical design were ignored to bring you this exhibit of crazy devices."
Chat Highlights:
Sunday: Changing user names; nepotism, the winning concept for friends and family; politics; targetting fence-sitters; Urban Dead.

Wednesday: Winner of the "Longest Chat of the Year" award due to the staff's negligence in turning off the chat sign for over 12 hours.

Come chat with us.
New Members this Week:
ChrisJones
DJS

(Not a member? Become one today!)
---
Elsewhere in the World:
Bad Science

Skepticality: Derek answers the Skeptical 5 Questions

Skulls Suggest Differing Stocks for First Americans

What's New by Bob Park

Got some skeptic news items? Send them to us, and we'll think about adding them.
Book of the Week:
Voodoo Science : The Road from Foolishness to Fraud, by Robert L. Park





"Scientific error, says Robert Park, 'has a way of evolving… from self-delusion to fraud. I use the term voodoo science to cover them all: pathological science, junk science, pseudoscience, and fraudulent science.' In pathological science, scientists fool themselves. Junk science refers to scientists who use their expertise to befuddle and mislead others (usually juries or lawmakers). Pseudoscience has the trappings of science without any evidence. Fraudulent science is, well, fraud — old-fashioned lying."

— Amazon.com
---
More issues of the Skeptic Summary can be found in our archive.

The Skeptic Summary is produced by the staff of the Skeptic Friends Network, copyright 2005, all rights reserved.
---
Read or Add Comments about the Skeptic Summary
Back to Skeptic Summary