Skeptic Summary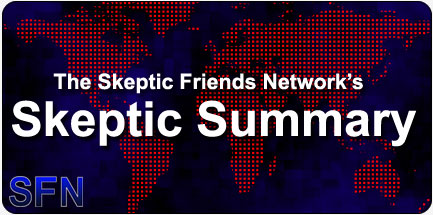 Skeptic Summary #74
By The Staff
Posted on: 1/7/2006

New museum, new wonders, new disaster, new label, not-so-new psychology and more!




Week ending January 7, 2006 (Vol 3, #1)


Welcome to the Skeptic Summary, a quick week-in-review guide to the Skeptic Friends Network and the rest of the skeptical world.

Forum Highlights:
New Creation Museum - We can't wait for this to open up!

New seven wonders - Just what makes a wonder a wonder, anyway?

Question - We can't believe Hippy4christ went there.

Editor's Choice: My answer to the "Brights" problem - I like this so much I'm going to use it even if nobody else does.


Kil's Evil Pick:
Psychoanalytic Method and the Mischief of Freud-Bashers, by Zvi Lothane, M.D. - Voices told me to choose this essay…
Chat Highlights:
Sunday: No notes were taken as the host was occupied elsewhere.

Wednesday: Kil was there. Dave and Ricky were there… Enchiladas may not work for chat night. More study is needed…

Come chat with us.
New Members this Week:
JohnOAS
godisevil01

(Not a member? Become one today!)
---
Elsewhere in the World:
Bad Science

And I just got a new irony-meter for Christmas…

Skepticality - Fraser Cain interviews Daniel Loxton

What's New by Bob Park

Got some skeptic news items? Send them to us, and we'll think about adding them.
Book of the Week:
What Freud Really Said: an Introduction to His Life and Thought, by David Stafford-Clark





"This book offers the most lucid overview available of Sigmund Freud, his legacy, and his place in our world. As the person responsible for the birth of psychoanalysis and one of the sharpest clinical minds of the 20th century, Freud continues to be one of the most influential thinkers of our time and one of the most controversial. For those interested in understanding the life and work of this seminal figure as well as the current debates that surround him, this book will prove an invaluable guide."

— Book Description
---
More issues of the Skeptic Summary can be found in our archive.

The Skeptic Summary is produced by the staff of the Skeptic Friends Network, copyright 2006, all rights reserved.
---
Read or Add Comments about the Skeptic Summary
Back to Skeptic Summary