Skeptic Summary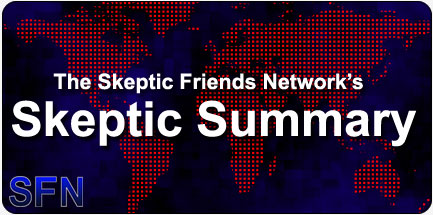 Skeptic Summary #83
By The Staff
Posted on: 3/18/2006

Dumb, soulful, scientological, stifling, biasing and more!



Week ending March 18, 2006 (Vol 3, #10)


Welcome to the Skeptic Summary, a quick week-in-review guide to the Skeptic Friends Network and the rest of the skeptical world.

Forum Highlights:
DumbMasses - I'll leave you to figure out who the dumb one is.

I'm a SOUL, man! - Except you seem unable to demonstrate it.

Scientologist leaves South Park - How will Chef be eliminated?

Editor's Choice: Reigion is Stifling Humanity and Evolution… - Here is an abnormal psychology doctoral thesis waiting to happen.
Kil's Evil Pick:
"Social and judgmental biases that make inert treatments seem to work," by Barry L. Beyerstein - A subject near and dear to my heart…
Chat Highlights:
Sunday: Members' 15 minutes of fame; computer software generic solution research; Kil Report from TAM4; shit happens; gambling at the casino; karma with cars; how to fool a firewall.

Wednesday: Bumper stickers for SFN. Small talk. Some tech talk and then there was more small talk. Science fiction TV shows and favorite authors were discussed. Cars were discussed, too. Oh, and Mab gets the astronomy and humor folders to moderate…

Come chat with us.
New Members these last two weeks:
DaNaughtyGal
sblue

(Not a member? Become one today!)
---
Elsewhere in the World:
Bad Science

'South Park'-Scientology battle rages on

What's New by Bob Park

Got some skeptic news items? Send them to us, and we'll think about adding them.
Book of the Week:
Humble Pi: The Role Mathematics Should Play in American Education, by Michael K. Smith





"Smith argues for a rethinking of the proper role of mathematics in education. Our emphasis on pure mathematics for all students is misguided, he maintains, and has not worked. Our students would be more successful if they were trained in practical mathematics — the math that is of direct practical use in everyday life that is geared to each individual career choice. Instead of traditional mathematics courses, students should work on solving complex problems, problems that draw on knowledge from different disciplines and are more closely connected to experiences they will face as citizens. Smith argues that the pure mathematics that is currently being taught should be offered only as an elective course, for those students especially interested in pursuing mathematics or a related discipline as a career."

— Prometheus Books
---
More issues of the Skeptic Summary can be found in our archive.

The Skeptic Summary is produced by the staff of the Skeptic Friends Network, copyright 2006, all rights reserved.
---
Read or Add Comments about the Skeptic Summary
Back to Skeptic Summary