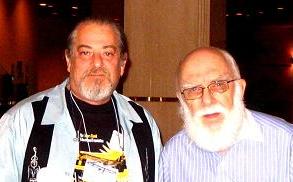 Please help to send Kil, that's me (David Glück, the Evil Skeptic), to TAM 5!
As I did in 2006, I would like to again represent the Skeptic Friends Network at the annual Amazing Meeting which will be the center of the skeptical universe for at least four days in late January, 2007.
The problem for me is that it is a fairly expensive proposition. Registration alone is $350. In addition, there is lodging at $89 a night plus food and traveling expenses. The cost of the trip will total around $750. And unlike the JREF, The Skeptic Society and The Center for Inquiry, we only have an online presence, which means we run the SFN on a shoestring budget.
Last year, through the generosity of the The James Randi Educational Foundation, I was awarded a scholarship to attend. But frankly, I would not be comfortable with that arrangement again. (And I doubt that even they award repeat scholarships!)
So here I am, with cap in hand, asking for donations from our members to get me there (just click the "Make a Donation" button, above). In return I promise to do us proud and, of course, write about my adventures at TAM5 in a Kil Report again. How can you resist that?
Thanks!
— Kil
Note: In the event that I don't raise enough to go, I will either use the money to start a TAM6 account for 2008, use it for a similarly high-profile skeptic event or refund your donation, as requested.
Note also: Unfortunately, donations made for this effort are not tax deductible.
Questions and Comments are Welcome.