Skeptic Summary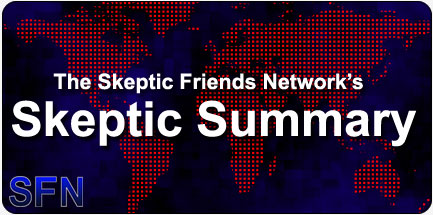 Skeptic Summary #22
By The Staff
Posted on: 1/8/2005

Back to basics, spew, bad ideas, a top-10 list, blaming gays, vampire turtles and more!



Week ending January 7, 2005 (Vol 2, #1)


Welcome to the Skeptic Summary, a quick week-in-review guide to the Skeptic Friends Network and the rest of the skeptical world.

Forum Highlights:
My basic question about skepticism - Except it's not so basic.

Religious hatred at its finest - Fred Phelps rides again.

Things that Do Exist - But Shouldn't - This is the thread in which to bring up that fig twizzler you've despised…

Editor's Choice: Top 10 Reasons I am a skeptic - #987: It drives my mother crazy.

From the Archives: Falwell blames gays in part for WTC attack - No doubt he's blaming someone for the tsunami now, too.
Chat Highlights:
There was no official topic for Wednesday's chat, which means that discussion was quickly taken over by moderators and administrators talking about the site. That wasn't all that came up, however. There was talk of the academic good life; vampire turtles; Kil is Hitler; UFOs; More Randi (how much money does he have, anyway?); Ghosts (thanks, Storm!), ghost stories, bad ghost puns, and skeptisicm. Review the session here, and be sure to check in next Wednesday night!
Kil's Evil Pick:
Kil was AWOL this week.
New Members this Week:
JewelBlueIbanez
txgeas
Isaiah
Georgiopoulos
da_stimulator
questionit
invaderzim

(Not a member? Become one today!)
---
Elsewhere in the World:
Arroyo turns to prayer to cast out 'demons of skepticism'

Bad Science

Secular Fundamentalism in America

What's New by Bob Park

Got some skeptic news items? Send them to us, and we'll think about adding them.
Book of the Week:
"Surely You're Joking, Mr. Feynman!" Adventures of a Curious Character, by Richard P. Feynman, Edward Hutchings, Ralph Leighton





"The outrageous exploits of one of this century's greatest scientific minds and a legendary American original. In this phenomenal national bestseller, the Nobel Prize-winning physicist Richard P. Feynman recounts in his inimitable voice his adventures trading ideas on atomic physics with Einstein and Bohr and ideas on gambling with Nick the Greek, painting a naked female toreador, accompanying a ballet on his bongo drums and much else of an eyebrow-raising and hilarious nature. A New York Times bestseller; more than 500,000 copies sold."
— Product Description
---
More issues of the Skeptic Summary can be found in our archive.

The Skeptic Summary is produced by the staff of the Skeptic Friends Network, copyright 2005, all rights reserved.
---
Read or Add Comments about the Skeptic Summary
Back to Skeptic Summary