Skeptic Summary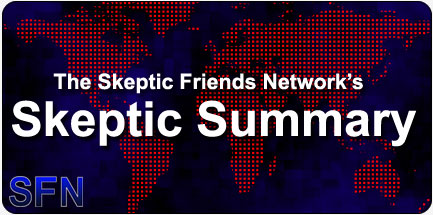 Skeptic Summary #63
By The Staff
Posted on: 10/22/2005

Dover, Starkid, DeLay, false memories, Bullshit! and more!



Week ending October 22, 2005 (Vol 2, #42)


Welcome to the Skeptic Summary, a quick week-in-review guide to the Skeptic Friends Network and the rest of the skeptical world.

Forum Highlights:
Bend Dover, Insert Wedge - Watch the ID "pros" in Dover continue to screw themselves.

Starchild: deformity or … alien hybrid? - Hey, maybe it's a badly deformed baby Yeti…

Editor's Choice: DeLay is starting to panic… - It amusingly devolved quickly into a discussion of fake-photo defects.
New Fan Mail this Week:
FMSF and SFN - Michelle and David get some blogged feedback on their FMS articles, and so begin the discussion anew.
Kil's Evil Pick:
Penn & Teller: Bullshit! - If you don't get Showtime, here is the place to see clips from episodes of Bullshit!, and some other cool stuff…
Chat Highlights:
Sunday: Only a few visitors, discussed some politics, and listened to and analyzed musicians Paul Anka and Max Raabe doing their very different interpretations of modern classic hits. Paul Anka in the style of Frank Sinatra/big-band jazz covering "Smells Like Teen Spirit," and Max Raabe in a style reminiscent of 1920s and early 30s song, also with orchestra, doing "Just a gigolo" tango version, and Prince's "Kiss" with a horn section, and banjo or ukulele as solo instrument.

Wednesday: Important stuff like sleeping arrangements on a submarine; black nails growing in after being pounded (one toe and one thumb); Bush and fellow republicans apparent meltdowns; health insurance and other things I can't remember were all discussed. And, of course, the meaning of life was discovered right there in chat so we can now close the book on that one…

Come chat with us.
New Members this Week:
Phyllis I
hawkeyes
courageouslion
VoloVersio

(Not a member? Become one today!)
---
Elsewhere in the World:
Bad Science

Behe Disproves Irreducible Complexity

Contributing to Behe's sense of martyrdom

Paging Dr. Ross: Meet America's most aggressive debunker of legitimate scientific research

Skepticality Interview: Fraser Cain interviews Tony Youens

Teams seek to recreate Archimedes' fabled death ray

What's New by Bob Park

Got some skeptic news items? Send them to us, and we'll think about adding them.
Book of the Week:
The Day the Universe Changed: How Galileo's Telescope Changed The Truth and Other Events in History That Dramatically Altered Our Understanding of the World, by James Burke





"Few people are able to look at human history and see it not as a jumble of half-remembered names and dates, but as an intricate mosaic of neatly interlocking pieces. Fewer still can describe the patterns and explain the parts of the puzzle so that it not only makes sense, but so that it also fascinates and intrigues, excites and entertains. James Burke tells history like it's the plot of the most interesting mystery ever written."

— Book Description
---
More issues of the Skeptic Summary can be found in our archive.

The Skeptic Summary is produced by the staff of the Skeptic Friends Network, copyright 2005, all rights reserved.
---
Read or Add Comments about the Skeptic Summary
Back to Skeptic Summary