Skeptic Summary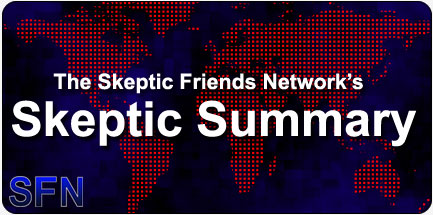 Skeptic Summary #78
By The Staff
Posted on: 2/4/2006

O'Reilly, Hovind, Bush, King, Mozina, With, Stossel and more!



Week ending February 4, 2006 (Vol 3, #5)


Welcome to the Skeptic Summary, a quick week-in-review guide to the Skeptic Friends Network and the rest of the skeptical world.

Forum Highlights:
Bill O'Reilly Lies, for Snake - Wanna see a train wreck?

Mr. Hovid goes to Blacksburg - Mark your calendars, folks.

State of the Union, 2006 - Apparently, it's "strong."

Editor's Choice: Mrs. King died in an "alternative clinic" - The thought of Dr. Gupta reading even one SFN thread makes me all a-tingle!
Best of January, 2006:
Topic of the Month: Mozina vs. The Crackpot Index - Well, there were no TOTM nominations, and this thread still cracks me up.

Post of the Month: It's not your turn - GeeMack tries to figure out a professional psychic.
Kil's Evil Pick:
John Stossel Takes on Kevin Trudeau on 20/20 - This is a must see!!
Chat Highlights:
Sunday: Indoor bandy, Six degrees of Kevin Bacon, HTPC, DVD-recorders and why Philips sucks, how Windows© Genuine Advantage works and doesn't work, truth as in different God-myths and the human condition in those myths, blessing animals, Landover Baptist, Ghosts and thought transmissions. Derren Brown playing mind-games, TAM4 report from Kil.

Wednesday: Started slow again. Stuffed peppers. Ricky had some Ramen and things picked up. We either have to discard the eggroll hypothesis or expand on it some. Very serious stuff. TAM4, a special creationist, the curative power of SFN, Valiant Dancer gets a promotion, Mab gets a ticket, and I get to write the chat summary again… sigh.

Come chat with us.
New Members this Week:
starjinx
MisterMooFoo

(Not a member? Become one today!)
---
Elsewhere in the World:
Bad Science

Skepticality #029 — the Scary QLink and Bob Carroll from TAM 4

What's New by Bob Park

Got some skeptic news items? Send them to us, and we'll think about adding them.
Book of the Week:
The Dragons of Eden, by Carl Sagan





"Dr. Carl Sagan takes us on a great reading adventure, offering his vivid and startling insight into the brain of man and beast, the origin of human intelligence, the function of our most haunting legends — and their amazing links to recent discoveries."

— Book Description
---
More issues of the Skeptic Summary can be found in our archive.

The Skeptic Summary is produced by the staff of the Skeptic Friends Network, copyright 2006, all rights reserved.
---
Read or Add Comments about the Skeptic Summary
Back to Skeptic Summary