Skeptic Summary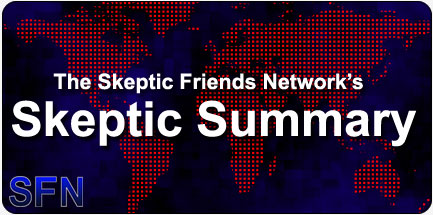 Skeptic Summary #80
By The Staff
Posted on: 2/25/2006

Our missing week, aborting abortion, healing or wishful thinking, clogged arteries, Iraqi freedom of conflict, more T-shirts, special podcast and more!



The two weeks ending February 25, 2006 (Vol 3, #7)


Welcome to the Skeptic Summary, a quick week-in-review guide to the Skeptic Friends Network and the rest of the skeptical world.

First off, we'd like to apologize for missing last weekend's Skeptic Summary. Consider this one a two-fer.

Forum Highlights:
Bye bye Roe V Wade - South Dakota ban spawns a discussion that will not be aborted.

My Healing Experience - Or, your healing coincidence?

My heart attack… - Just because Randi had a heart attack doesn't mean everyone should get one, Kil. Get well.

Outright Civil War Begins in Iraq - Is the baloney really not transparent to some people?

Editor's Choice: SFN T-Shirt suggestions - I like most of these.
Kil's Evil Pick:
Point of Inquiry Podcast - Inteview with Richard Dawkings plus Derek and Swoopy.
Chat Highlights:
Sunday, the 12th: Darwin happy birthday party; greetings-and-get-well-wishes in audiofile to James Randi; Mapquest finding your way, and how it works (thank deity-of-choice for software engineers); surfing with mom's ironing board; lake monsters; Olympics; homosexuality thread; T-shirt slogans; Google Earth.

Sunday, the 19th: Computer programming projects; does biology class make you a better electronics engineer? Navigating MSDN.com; social stigma of RPG-gamers in Christian circles; MMORPGs; cosmetics; beauty is in the eye of the beer-holder; Google Earth.

Wednesday, the 22nd: First I got a phone call from my brother. Then my mother called. I had to go heat up my dinner. Then I got another call. @tomic came by and chatted for awhile. In fact, we had a pretty good turnout. I know that because I was able to glance at the screen from time to time. I'm sure we talked a bit about food because we always do. And pills for cardiovascular maintenance came up. Go figure.

I promise that next week's chat will be just as enthralling is this one was. (I know it was enthralling because I noticed the page was scrolling up at a pretty good clip for most of the evening…)

Come chat with us.
New Members these last two weeks:
THoR
jbaugher
Daddyweather
Mako
Skepticat
Ghost_Skeptic
geo berri
shambhala
Venom
zandore
BaccaBerri
Geri_Berri
Sheri berri
D_Thomas
Othello
razzle

(Not a member? Become one today!)
---
Elsewhere in the World:
Bad Science

Skepticality #030 - Evolution Sunday and Jeff Wagg Interview

Skeptic's Dictionary Newsletter 64

What's New by Bob Park

Got some skeptic news items? Send them to us, and we'll think about adding them.
Book of the Week:
The Faith Healers, by James Randi





"…Are there people chosen by God to heal bodily ailments through the power of prayer alone? Randi's answer is "maybe," but on the basis of his three-year investigation into faith healers, he hasn't found any evidence of it and suggests it may be nothing more than a religious con game. The author, a professional magician, has made it a sideline to expose fraud and misconceptions in the realm of the paranormal. Leading evangelists such as Oral Roberts, Peter Popoff, W. V. Grant, Pat Robertson, and others are all shown to use tactics that are at best misleading, to guide the faithful into believing that they have been supernaturally cured by prayer alone. At worst, some of these men are shown to be cynical frauds preying on the desperation of the seriously ill.…"

— School Library Journal
---
More issues of the Skeptic Summary can be found in our archive.

The Skeptic Summary is produced by the staff of the Skeptic Friends Network, copyright 2006, all rights reserved.
---
Read or Add Comments about the Skeptic Summary
Back to Skeptic Summary