Skeptic Summary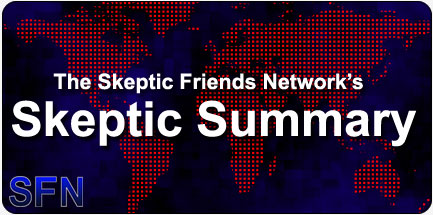 Skeptic Summary #89
By The Staff
Posted on: 4/29/2006

New feature, atheist anger, bigotry and then some, reborn top-10 list, visiting the capitol, darwinism and God, beliefs, kooks and more!



Week ending April 29, 2006 (Vol 3, #16)


Welcome to the Skeptic Summary, a quick week-in-review guide to the Skeptic Friends Network and the rest of the skeptical world.

New Website Feature:
We began implementing a new forum folder to allow for our members to easily comment on the articles published by the SFN staff and contributors. It will take some time to get a comment thread for all of our articles, but we are working on it. So if you've been dying to get something off your chest, just have a little more patience, thank you.
Forum Highlights:
Are athiests really all that angry?Now that you mention it…

Day of Bigotry - The point gets lost during the Day of Definitions.

Top 10 Reasons I am a skeptic - It's been over a year since this thread was active, so let's hear some noise!

Editor's Choice: I will be visiting Washington, D.C. - How can we generate more active interest for this?
New Fan Mail:
Darwinism: Sorcery in the Classroom - An author makes an unsolicited attempt to spread the glory of God.

So What? - What's wrong with a few odd beliefs?
Kil's Evil Pick:
Kooks Museum - In keeping with my continuing quest to bring you news and knowledge of the strange…
Chat Highlights:
Sunday: Noam Chomsky; skeptical hero worship is bad; even Dr. Mabuse can be wrong; bikes are dangerous; Bullshit!; wildlife flourishing in Chermobyl; nuclear holocaust; stupid films like "The day after Tomorrow" and "The Core." Also: playing with Google Earth, it can't find the Bible-belt, not the woo-woo belt; who are worse, religious fundies or Scientologists?; Wikipedia as accurate as Brittanica; weather where SFN members live; anti-religion?; Amish; can a skeptic celebrate X-mas; how long is baptizement vaid; getting laid at Bar Mitzvah? puns; mad unicorns; role-playing games; legalization of prostitution and drugs.

Wednesday: Once again, lesbians were not interested in what the largest lake in the world is. Olives, redheads, homicidal rage, whack-jobs, Depeche Mode, six-legged lambs and seven-assed monkeys were also discussed, kinda. SFN members plan meeting up in DC. Tool, bunnies and taxies also came up. Dave woke up Marf with a dazzling display of chat-sound brilliance. Much, much more was discussed, but this summary is long enough…

Come chat with us.
New Members Last Week:
sweetbabygirl332006
Aerik
IsaacKoi

(Not a member? Become one today!)
---
Elsewhere in the World:
Bad Science

Experts: Global warming behind 2005 hurricanes

'Green roofs' growing more popular

What's New by Bob Park

Got some skeptic news items? Send them to us, and we'll think about adding them.
Book of the Week:
Kooks 2 Ed: A Guide to the Outer Limits of Human Belief, by Donna Kossy.





"The Los Angeles Times touted the original 1994 edition of Kooks as "a rich compendium of looniness." This newly expanded version includes a profile on hollow-Earth activist Ruth Leedy, a letter to Richard Nixon from St. Elizabeth's mental hospital, scientific proof of God, and other material culled from the author's archives. This edition is newly expanded, with 36 pages of never-before-printed material."

— Book Description
---
More issues of the Skeptic Summary can be found in our archive.

The Skeptic Summary is produced by the staff of the Skeptic Friends Network, copyright 2006, all rights reserved.
---
Read or Add Comments about the Skeptic Summary
Back to Skeptic Summary