Skeptic Summary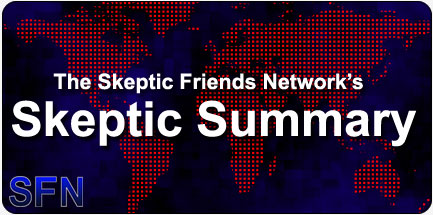 Skeptic Summary #44
By The Staff
Posted on: 6/10/2005

Dardnest things, somewhat more logical deism, uber-skepticism, Joe Nickell, skepticism's burden and more!



Week ending June 10, 2005 (Vol 2, #23)


Welcome to the Skeptic Summary, a quick week-in-review guide to the Skeptic Friends Network and the rest of the skeptical world.

Forum Highlights:
Fundies Say the Darndest Things… Rides Again! - Need anyone say more?

I am a logical Deist - New member Giltwist revives this thread with something interesting.

Meta-Skepticism - Can skepticism go too far?

Editor's Choice: Joe Nickell - Debunking the debunker who tries to debunk the debunker.
Kil's Evil Pick:
"The Burden of Skepticism," by Carl Sagan
Chat Highlights:
Sunday: First out: free heroin for addicts; Winston Wu and who are debunkers? Ghost stories, Star Wars 3 movie, then more ghosts. Also: company parties — men are scum; evil midgets (also known as children); PC vs. MAC fight among SFN members . Finally: SFN members writing fiction (science?); playing instruments; fantasy art by Larry Elmore, Giger, Boris Vallejo, and more.

Wednesday: Chat opened with more discussion of crazy codes and the topic just wouldn't die. Also: feline medical drama; BBs — the ultimate pest solution; pussy (cats); Apple v. Intel; vampires, werewolves and witches, oh brother!; mysterious beeping; and changing light bulbs. HEY — don't forget about Sunday's chat featuring skepticality!

Come chat with us.
New Members this Week:
Giltwist
cuchi
kathleen
Papabear
solidsquid

(Not a member? Become one today!)
---
Elsewhere in the World:
Bad Science

Bush pushes for Patriot Act

Possible ice volcano on Saturn moon

Report details FBI's missed opportunities before 9/11

What's New by Bob Park

Got some skeptic news items? Send them to us, and we'll think about adding them.
Book of the Week:
The Structure of Evolutionary Theory, by Stephen Jay Gould





"In The Structure of Evolutionary Theory, a monumental labor of academic love, Stephen Jay Gould attempts to define and revise [evolution's] framework. Using the clear metaphors and personable style he is so well known for, Gould outlines the foundation of the theory and attempts to use it to show that modern evolutionary biology has lost its way. He then offers his own system for reconciling Darwin's 'basic logical commitments' with the critiques of modern scientists."

— Amazon.com
---
More issues of the Skeptic Summary can be found in our archive.

The Skeptic Summary is produced by the staff of the Skeptic Friends Network, copyright 2005, all rights reserved.
---
Read or Add Comments about the Skeptic Summary
Back to Skeptic Summary