Skeptic Summary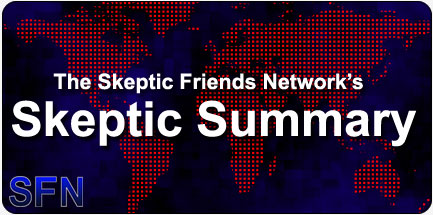 Skeptic Summary #93
By The Staff
Posted on: 5/27/2006

Cloaks, microbes, prayers, revisiting old links and more!



Week ending May 27, 2006 (Vol 3, #20)


Welcome to the Skeptic Summary, a quick week-in-review guide to the Skeptic Friends Network and the rest of the skeptical world.

Forum Highlights:
A real cloak of invisibility? - Next on the drawingboard is the Nimbus 2000.

Microbe hints at life's origin - And at Bill's inability to represent the "other side" accurately.

Editor's Choice: Lord Jesus Light to the World - It looks like spam, it even smells like spam, but we're doing our skeptical best to wait for more evidence to be brought to light.
Kil's Evil Pick:
Updating Evil Pick from Skeptic Summary #91 - Dr. Coker dropped me a note about his "Distinguishing Science and Pseudoscience" that I recently recommended. There is a newer version of his fact sheet here. Near the bottom of the page there are some links to excellent articles discussing in more depth specific examples of pseudoscience. Along with the text, there are photos and drawings are just great. This is one cool site! The homepage for the site can be found here, with still more stuff very worthy of a good look. This is a wonderful resource! I am making this my "Evil Pick" for the week because there is so much more to this site than what was in my original pick of a couple weeks ago.
Chat Highlights:
Sunday: A true story about military service and a criminal case closed due to lack of evidence; religious intolerance where the religious are intolerant of non-religious; is Buddhism a religion or philosophy? Violent urges after reading Rapture Ready. Doctor's warning: read and go blind or insane. Also: a country filled with skeptics, a wishful dream? Bad jokes; Derek of Skepticality is getting better; region coding of DVDs; terrorist-attack-exercises in Australia; racing police boats.

Wednesday: We had a discussion about the ability of theists to think critically, punctuated by a session of fruit puns. I don't know exactly why these pun sessions start, but I guess it's because we are who we are. Anyhow, after the puns, all who were in chat at that time left to get dinner or a snack. Which one seemed to depend on the time zone the chatters were chatting from. Makes sense to me. We posted exactly what our eats were. Go figure. We had a lot more discussion about the logic of religion and how to define religion in general. For example, does humanism qualify as a religion, and how should we view those religions that are not theistic or have no supernatural underpinnings? There was also a discussion on how some people might take works of fiction as factual. That subject doesn't matter though, because I had already left chat…

Come chat with us.
New Members Last Week:
adam

(Not a member? Become one today!)
---
Elsewhere in the World:
Bad Science

Robertson says he leg-pressed 2,000 pounds

What's New by Bob Park

Got some skeptic news items? Send them to us, and we'll think about adding them.
Book of the Week:
Guns, Germs, and Steel: The Fates of Human Societies, by Jared Diamond.





"Explaining what William McNeill called The Rise of the West has become the central problem in the study of global history. In Guns, Germs, and Steel Jared Diamond presents the biologist's answer: geography, demography, and ecological happenstance. Diamond evenhandedly reviews human history on every continent since the Ice Age at a rate that emphasizes only the broadest movements of peoples and ideas. Yet his survey is binocular: one eye has the rather distant vision of the evolutionary biologist, while the other eye — and his heart — belongs to the people of New Guinea, where he has done field work for more than 30 years."

— Amazon.com
---
This Week's Most-Viewed Pages:
Forum Topics:

Articles:
---
More issues of the Skeptic Summary can be found in our archive.

The Skeptic Summary is produced by the staff of the Skeptic Friends Network, copyright 2006, all rights reserved.
---
Read or Add Comments about the Skeptic Summary
Back to Skeptic Summary