Skeptic Summary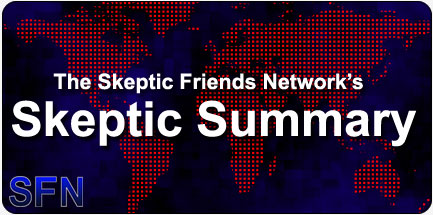 Skeptic Summary #109
By The Staff
Posted on: 9/16/2006

Confessions, designs, exorcisms, Heavens, conspiracies and more!



Week ending September 16, 2006 (Vol 3, #36)


Welcome to the Skeptic Summary, a quick week-in-review guide to the Skeptic Friends Network and the rest of the skeptical world.

Forum Highlights:
Confessions - SFN member Jarrid details his passage into skepticism.

Unintelligent Design - Yes. Very.

White House Exorcism? - Liberal spirits have been purged.

Editor's Choice: Atheist Heaven - Yeah, I wanna be god.
Kil's Evil Pick:
Did the U.S. government plan and execute the 9/11 attacks? - Loose Change or loose screws in the makers of the definitive online 9/11-conspiracy film?
Chat Highlights:
Sunday: dglas got a new job; Skeptic Friends in city council a nice dream and a scary dream; the Simpsons; good-looking Swedish female submariners; a skeptic Kil talks to a guru.

Wednesday: Chat started off with building computers, as Dr. Mabuse and Ricky compare their recently built systems. Then a few SFN members discover Gmail and what a wonderful email client it is. Later, a game similar to Urban Dead, called Zombies, was introduced and played for a bit. This all intertwined with planning a vacation for visiting London. BAUT soon came to be the topic at hand. Then we went back full circle to building desktops and programs that hog RAM.

Come chat with us.
New Members This Week:
Q50
Razeroth
ToSeek

(Not a member? Become one today!)
---
Elsewhere in the World:
Bad Science

Skepticality #033 — Interview: Dr. Michael Shermer, Why Darwin Matters

What's New by Bob Park

Got some skeptic news items? Send them to us, and we'll think about adding them.
Book of the Week:
Why Darwin Matters: the Case against Intelligent Design, by Michael Shermer.





"A creationist-turned-scientist demonstrates the facts of evolution and exposes Intelligent Design's real agenda.

Science is on the defensive. Half of Americans reject the theory of evolution and 'Intelligent Design' campaigns are gaining ground. Classroom by classroom, creationism is overthrowing biology.

In Why Darwin Matters, bestselling author Michael Shermer explains how the newest brand of creationism appeals to our predisposition to look for a designer behind life's complexity. Shermer decodes the scientific evidence to show that evolution is not 'just a theory' and illustrates how it achieves the design of life through the bottom-up process of natural selection. Shermer, once an evangelical Christian and a creationist, argues that Intelligent Design proponents are invoking a combination of bad science, political antipathy, and flawed theology. He refutes their pseudoscientific arguments and then demonstrates why conservatives and people of faith can and should embrace evolution. He then appraises the evolutionary questions that truly need to be settled, building a powerful argument for science itself.

Cutting the politics away from the facts, Why Darwin Matters is an incisive examination of what is at stake in the debate over evolution."

— Book Description
---
This Week's Most-Viewed Pages:
Forum Topics:

Articles:

There were 4,053 daily visitors this week.
---
More issues of the Skeptic Summary can be found in our archive.

The Skeptic Summary is produced by the staff of the Skeptic Friends Network, copyright 2006, all rights reserved.
---
Read or Add Comments about the Skeptic Summary
Back to Skeptic Summary