Skeptic Summary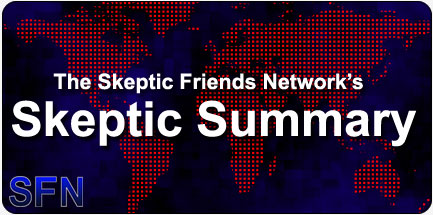 Skeptic Summary #53
By The Staff
Posted on: 8/12/2005




Week ending August 12, 2005 (Vol 2, #32)


Welcome to the Skeptic Summary, a quick week-in-review guide to the Skeptic Friends Network and the rest of the skeptical world.

And then some! This week, we're not only going to bring you our regular selection of highlights from the past week, but also from the last year. Yes, this issue marks the first anniversary of Skeptic Summary #1, and I can tell you, the staff is pretty excited about how this small publication of ours is going (and the whole SFN Web site, of course, including our informal partnership with Skepticality). So in celebration, we thought we'd take a short jaunt through time, and offer our readers some of notable topics, events and articles since the birth of the Summary, along with our regular fare…

Forum Highlights:
Debate downunder! - Creationism once again extends a tentacle towards Australia.

Letter from pastor regarding evolutionists' "fear" - While the letter is interesting, the question of ID's intellectual status may be more interesting.

We Never Went To Mars and Saturn - Only look at this thread if you're a physics masochist.

Editor's Choice: The coming of C'thuulu - I hope to be eaten first.
Highlights from the Year that Was:
Be Afraid… Be Very Afraid - Who, exactly, has trouble with "7th grade math?"

Blood Meridian, Or the Evening Redness in the West - SFN member H. Humbert highly recommends Cormac McCarthy's book.

Debunking of Jimi's points - The debate that wasn't.

Discussing Biblical Contradictions - Not that we can agree that any of them are contradictions.

Introduce Yourself - You don't have to, but it'd be great if you do.

Investment schemes - Perhaps our most-viewed topic, even if it is about an ancient subject.

Is the agnostic position on god a valid one? - There really isn't enough evidence to affirm or deny this.

Madison (and others) Quotes concerning religion - One more attempt to show that the Founding Fathers meant for the Bible to supplement the Constitution.

Medicine kills and chiropractors heal - Or the other way 'round, it's so hard to tell these days…

Murder scheduled for 5pm - Terri Schiavo, round one.

My basic question about skepticism - My basic, nine page long question about skepticism.

Old skepticism's debunkery tactics… debunked - latinijral's anti-debunkery debunkery is, alas, debunked.

Owl on the dollar bill… - And your point is?

A Picture which disproves Evolution - Or not…

Run over by a truck - SFN member Ricky discovers he's nothing more than a bump in the road.

Science Links - The more contributions to this topic, the better.

Smoking Bans - And the people who love them.

So, what's your user name? - A great way to introduce yourself without the discomfort of just introducing yourself.

Stolen Election? - Let the healing begin?

What is a Ghost? - I dunno. You tell me!

Winning the war on Creationists? - Sadly, no.

Best of the Months:
Best TopicsBest Posts
Best of the Archives:
Did Jesus Really Exist? (Part 1)
Did Jesus Really Exist? (Part 2)
Did Jesus Really Exist? (Part 3)
Did Jesus Really Exist? (Part 4)
Did Jesus Really Exist? (Part 5)
Kil's Evil Pick:
NASA Warped Our View of Space - "…even if nobody was hurt, and even if there was no cost to the taxpayers, the Apollo moon hoax hurt the human race because it has given people a warped view of the universe. This in turn is causing other problems."
Kil's Evilest Pick:
Free the West Memphis Three - Although there was no physical evidence, murder weapon, motive, or connection to the victims, the prosecution pathetically resorted to presenting black hair and clothing, heavy metal t-shirts, and Stephen King novels as proof that the boys were sacrificed in a satanic cult ritual. Unfathomably, Echols was sentenced to death, Baldwin received life without parole, and Misskelley got life plus 40.
Chat Highlights:
Editor's Note: both Dr. Mabuse and Cuneiformist became SFN staff members (and hosts of their respective chats) back around the end of November, 2004. Just a year ago, we didn't even have a regular Sunday chat, but on June 12th, 2005, we had our first chat with a special, featured guest (it was Derek and Swoopy from Skepticality). A big thanks go out to everyone who has helped make Sunday a popular time to get together and gab, in addition to the Wednesday chats which have been going for quite some time. Keep up the good work, guys! Your contributions to the SFN (which extend to far more than chatting) are very much appreciated.

Sunday: Helping Ig buy a computer. Storm did a brief appearance then vanished. Art, not-art, semi-art? Food, food, food… Boredom and Microsoft conspiracy theory; finally, annoying-but-addictive songs. (A special thanks go to Siberia for this chat summary.)

Wednesday: Your moderator was late (as usual), and jumped into a conversation about backwards clocks. Whatever those are. Also: AOL "basically sucks"; cancer treatment; whitewater rafting; survival; cunning linguists; surfing and mass exodus! Come by next week to figure out what it all means!

Come chat with us.
New SFN Articles this Year:
A Cherry Picker's Guide To Choosing Evidence For Traumatic Repression Or False Memory Syndrome - In a companion piece to his girlfriend's "Questioning the Validity of False Memory Syndrome," David Glück questions the apparent eagerness of many skeptics to jump on the False Memory Syndrome bandwagon.

Cold Reading - SFN member filthy gives us an overview of the ubiquity of the practice of cold reading, including some words on some famous cold readers.

Hank Cleaned Tommy's Clock for a Reason - Well, somebody's clock is getting cleaned, but it doesn't look like it's Tommy's.

Laetrile - Kil is informed that - despite the available evidence - Laetrile is THE cure for cancer.

Miracle Thaw Tray - Taking issue with the criticism of a kitchen gadget.

Paradigm Paralysis - Come see what happens when an opponent of paradigm paralysis becomes trapped within his own.

Questioning the Validity of False Memory Syndrome - False Memory Syndrome has been promoted by the media and accepted as a legitimate legal defense in many courtrooms, but is there really a syndrome here?

Umps Concur: Yes, Garvey Walks - What the court of appeals finds to be sufficient research, Kil finds absolutely pathetic.

You're an Idiot - The Bible's Bad Fruits and Kent Hovind, both in one email. Can our irony meters take the strain?
New Members this Week:
Eagles
GarColga
sts60
soda_farl
bigbrain

And with the above short list, we count 365 new SFN members in the last 364 days. Just slightly better than one new member a day, on average. Don't forget that becoming an SFN member is easy and free.

(Not a member? Become one today!)
---
Elsewhere in the World:
Bad Science

Historical Evidence Shows Larsen Ice Shelf Collapse Is 'Unprecedented'

New observations and climate model data confirm recent warming of tropical atmosphere

Philip Klass, 85, Dies; Aviation Journalist, UFO Debunker

Shuttle completes first mission since loss of Columbia

Skepticality #15 - Seth Shostak

Study: Meteor strikes may have aided early life

Study: Sabertooths were no pussy cats

What's New by Bob Park

Got some skeptic news items? Send them to us, and we'll think about adding them.
Elsewhere in the Year:
Carla Baron, Psychic Detective (?)

Claims of Invalid "Shroud" Radiocarbon Date Cut from Whole Cloth

Common Sense - Surprising new research shows that crowds are often smarter than individuals

Court backs atheist mother in Scouts case

The Crusade Against Evolution

FDA Unveils New Rules For Supplement Labels

Meyer's Hopeless Monster

Misconceptions about the Big Bang

Moon probe could kill conspiracy theory

A Practical Guide to Critical Thinking

Psychic Predictions 2004

Scalia To Synagogue - Jews Are Safer With Christians In Charge

Seances demonstrate power of suggestion

Testing Natasha

Why Mainstream Coverage of Global Warming Has Failed

And how could we not mention, once again, what must be the best new skepticism resource this year, Skepticality?
---
Book of the Week:
Did God Have A Wife? Archaeology And Folk Religion In Ancient Israel, by William G. Dever





"The first book by an archaeologist on ancient Israelite religion, this fascinating study critically reviews virtually all of the archaeological literature of the past generation, and it brings fresh evidence to the table as well. While Dever digs deep into the past — revealing insights are found, for example, in the form of local and family shrines where sacrifices and other rituals were performed — his discussion is extensively illustrated and communicated in non-technical language accessible to everyone.

Dever calls his book "a feminist manifesto — by a man," and his work gives a new prominence to women as the custodians of Israel's folk religion. Though the monotheistic faith and practice recounted in the Bible likely held sway among educated, elite men in Jerusalem, the heart and soul of Israelite religion was polytheistic, concerned with meeting practical needs, and centered in the homes of common, illiterate people."

— Book Description
---
Book of the Year:
The Demon-Haunted World: Science as a Candle in the Dark, by Carl Sagan





"Carl Sagan muses on the current state of scientific thought, which offers him marvelous opportunities to entertain us with his own childhood experiences, the newspaper morgues, UFO stories, and the assorted flotsam and jetsam of pseudoscience. Along the way he debunks alien abduction, faith-healing, and channeling; refutes the arguments that science destroys spirituality, and provides a 'baloney detection kit' for thinking through political, social, religious, and other issues."

— Amazon.com
---
More issues of the Skeptic Summary can be found in our archive.

The Skeptic Summary is produced by the staff of the Skeptic Friends Network, copyright 2005, all rights reserved.
---
Read or Add Comments about the Skeptic Summary
Back to Skeptic Summary