Skeptic Summary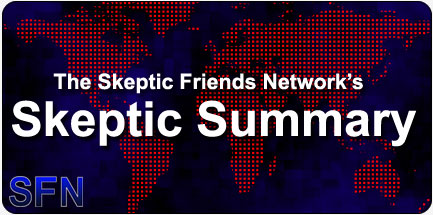 Skeptic Summary #56
By The Staff
Posted on: 9/2/2005

Katrina, tearing down the Big Tent, Bush and ID, ID and FSM, God and gays, ghosts and tests, politics and origins and more!



Week ending September 2, 2005 (Vol 2, #35)


Welcome to the Skeptic Summary, a quick week-in-review guide to the Skeptic Friends Network and the rest of the skeptical world.

So it appears that many in the government are being rather bone-headed about the handling of the recent hurricane and its aftermath. Donate to the American Red Cross, and then write your Congresspeople.

Forum Highlights:
Are they beginning to eat their own? - Another rip in the Big Tent.

The Big Easy is screwed - For all your hurricane-discussion needs.

Bush: Intelligent design should be taught - Longtime SFNer Verlch joins the debate in classic non sequitur form!

Editor's Choice: FSM Alternative - With luck, the beer volcanoes create just the right amount of foam.
Best of August, 2005:
Topic of the Month: Weird advice from Focus on the Family - What starts as God vs. homosexuality turns into a discussion of more-basic doctrine.

Post of the Month: Testing for Ghosts - Ricky proposes a reasonable course of research, and is ignored.
Kil's Evil Pick:
Religion A Strength And Weakness For Both Parties - As well as the summary, take the time to examine part one and part two of the questionnaire itself.
Chat Highlights:
Sunday: First out: Kil makes prediction about hurricane; Dr. Mabuse's biker-party including nice pictures; languages in school and otherwise; puzzle at Godtower. Also: storm Katrina heading for New Orleans… it looks bad; Cajun food is good; the history of Intel x86 series processors — lecture.

Wednesday: Throughout the night, the conversation turned to Katrina and its aftermath. Also: Bush's low numbers; Pleco has checked in!; Giltwist's pursuit of logic; The_ignored, smart ass of all chat; Verlch!; online games; the Superdome; a team for LA? As always, to be continued next week…

Come chat with us.
New Members this Week:
PsiUmbreon
Orzo
k8

(Not a member? Become one today!)
---
Elsewhere in the World:
Bad Science

Chimp Genome — and First Fossils — Unveiled

Katrina.com

Skepticality: James Randi (yes, again) and Whimsicality: Mirror, Mirror

Speeding Neutron Star Is Fastest on Record

U.S. considers plutonium space rockets

What's New by Bob Park

Got some skeptic news items? Send them to us, and we'll think about adding them.
Book of the Week:
Broca's Brain: Reflections on the Romance of Science, by Carl Sagan





"A fascinating book on the joys of discovering how the world works…"

— Back Cover
---
More issues of the Skeptic Summary can be found in our archive.

The Skeptic Summary is produced by the staff of the Skeptic Friends Network, copyright 2005, all rights reserved.
---
Read or Add Comments about the Skeptic Summary
Back to Skeptic Summary