Skeptic Summary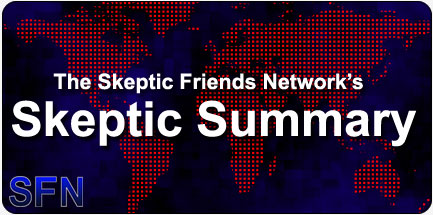 Skeptic Summary #108
By The Staff
Posted on: 9/9/2006

Americans and evolution, volcanos and carbon, ABC and reality, aliens and bars, scammers and scamees and more!



Week ending September 9, 2006 (Vol 3, #35)


Welcome to the Skeptic Summary, a quick week-in-review guide to the Skeptic Friends Network and the rest of the skeptical world.

Forum Highlights:
Most Americans agree with evolution - Unfortunately, most don't agree with that statement.

Mount St. Helens spewed more CO2… - Will an anti-global warming claim stand up to scrutiny? Do I have to ask?

ABC's 'Path To 9/11' - Next time, they might actually try to describe what happened in this universe.

Editor's Choice: Bar Joke 1 - I just really like the premise.
Kil's Evil Pick:
Scambuster 419 Advance Fee Fraud also known as the Nigerian Scam - I was directed to this site in chat a couple of weeks ago. From the site:

This website contains a wealth of useful information on 419 scams and advance fee fraud. However, most of the website is devoted to a number of email exchanges between "Gilbert Murray" (in a variety of guises) and a range of advance fee fraudsters, all of them desperate to get their hands on his money… and all of them failing miserably to do so.

Enjoy!
Chat Highlights:
Sunday: Expectation of more people in chat as the season changes; sensitive people; fish to fry and eat; American Idol; TV series; Siberia returns; writing for school, business, and pleasure; learning through debating; igpay atinlay; ventilation troubleshooting.

Wednesday: Fantasy Football started off this week's chat. Then, onto more pressing matters such as the temperature of a sauna. A discussion of Steve Irwin's recent death and a criticism of his critics begins to unfold, but is side-tracked by an unfortunate joke which turns the topic into which animals taste like chicken. The conversation was saved by quick rehash of the Ann Coulter's book: Godless thread, which lead into more discussion of the topics it involved. One such issue was necrophilia, and so the death puns started. Some members tried to save the conversation, but it was a futile effort. Urban Dead was unnaturally brought up as a result, which ended the rest of chat.

Come chat with us.
New Members This Week:
yuvin
Lilisexy
love30
karcreat

(Not a member? Become one today!)
---
Elsewhere in the World:
Bad Science

Impact landing ends SMART-1 mission to the Moon

Steve Irwin killed by stingray

What's New by Bob Park

Got some skeptic news items? Send them to us, and we'll think about adding them.
Book of the Week:
Evolution in Four Dimensions: Genetic, Epigenetic, Behavioral and Symbolic Variation in the History of Life, by Eva Jablonka and Marion J. Lamb.





"Ideas about heredity and evolution are undergoing a revolutionary change. New findings in molecular biology challenge the gene-centered version of Darwinian theory according to which adaptation occurs only through natural selection of chance DNA variations. In Evolution in Four Dimensions, Eva Jablonka and Marion Lamb argue that there is more to heredity than genes. They trace four 'dimensions' in evolution — four inheritance systems that play a role in evolution: genetic, epigenetic (or non-DNA cellular transmission of traits), behavioral, and symbolic (transmission through language and other forms of symbolic communication). These systems, they argue, can all provide variations on which natural selection can act. Evolution in Four Dimensions offers a richer, more complex view of evolution than the gene-based, one-dimensional view held by many today. The new synthesis advanced by Jablonka and Lamb makes clear that induced and acquired changes also play a role in evolution."

— Book Description
---
This Week's Most-Viewed Pages:
Forum Topics:

Articles:

There were 4,389 daily visitors this week.
---
More issues of the Skeptic Summary can be found in our archive.

The Skeptic Summary is produced by the staff of the Skeptic Friends Network, copyright 2006, all rights reserved.
---
Read or Add Comments about the Skeptic Summary
Back to Skeptic Summary